Clown Jokes & Walkaround Gags by Ron Burgess
 Editorial Reviews of Clown Jokes and Walkaround Gags
The author, Ron Burgess – RBur696840@aol.com , November 23, 1998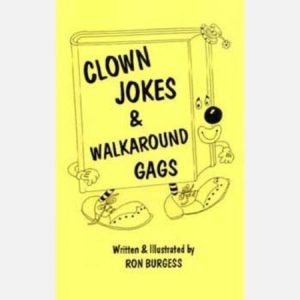 Funny Stuff from "Silly Willy the (almost) Famous Clown"
Hi, Clown Lovers! That could be kids, parents, teachers, clowns, and anyone else that I haven't mentioned that enjoys good clean fun.
Clown Jokes & Walkaround Gags is my first published book and I'm really excited about it. It's a real funny book, loaded with some of my favorite jokes and my best clown cartoons, that I'm sure you'll enjoy. The book can also be used as a source book for clowns that are looking for a couple of new jokes or walkaround gags.
I'm currently working on "Son of Clown Jokes and Walkaround Gags" and "Grandson of Clown Jokes and Walkaround Gags". Both of these have even more jokes and cartoons. I also have 5 children's books on clowns, making the rounds of publishers. I hope I am as successful with those as I have been with "Clown Jokes."
What kind of jokes do we have in the book? Well, I'll give you a sample of typical type jokes.
Why was Sunshine the clown staring at an orange juice can? Because it said "Concentrate."
Why can't clown noses be 12 inches long? Because then they would be a foot.
Why did Rainbow the clown eat a dollar bill? It was his lunch money.
Why was Sparkle the clown holding a mirror in front of her face with her eyes closed? She wanted to see what she looked like when she was sleeping.
Why did Silly Willy hold his ears when he walked by the hen house? He didn't want to hear the fowl language.
Well, you get the idea. Buy the book. Make yourself happy. Make your friends happy. Make your kids happy, but especially make me happy.
Books by Ron Burgess: Be A Clown!, Clown Jokes & Walkaround Gags, Son of Clown Jokes and Walkaround Gags, Laughing Lessons: 149 2/3 Ways to Make Teaching and Learning Fun,
Interested in clown skits? Be sure to check out Happy Jack Feder's Clown Skits, Bonzo's Complete Book of Clown Skits, Volume 1, Clown Act Omnibus, World's Funniest Clown Skits, Clown Jokes and Walkaround Gags, Clown Ministry Skits All Seasons, Dewey's Clown Gags & Giggles, Dewey's Gospel Clown Skits #1, Dewey's Gospel Clown Skits #2, Everything New & Who's Who in Clown Ministry