Merry Andrew (1958), starring Danny Kaye
Merry Andrew is an old English term for a clown.  In the movie Merry Andrew, Danny Kaye plays Andrew Larabee, a slightly stuffy professor, who has received permission for an archeological dig at a site in England.'  The land is owned by an old school friend of his, who is planning to build a dairy on the spot.  However, the traveling Circus Gallini is planning on performing on the spot.  This causes tension, as well as a small fight with the local police.  Larabee's arrival, with a slight bit of blackmail, postpones the building of the dairy for a week.   Giving him time to dig for the artifact that he needs (in order to marry his fiancee).  As well as for the circus to complete their engagement.  Of course, there's the slight problem of Danny Kaye's character falling in love with Selena Gallini, the circus owner's niece' …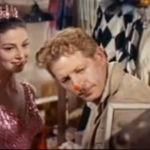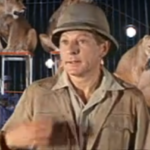 Merry Andrew is a very funny film, and very sweet as well, with several wonderful scenes.  For instance, while excavating at his site, there's a cave-in.  And Danny Kaye emerges in the lion cage, in the middle of a performance.  The circus audience (and ourselves) find Danny Kaye's fearful attempts to get out alive hilarious. Later, when the ringmaster loses his voice, Danny Kaye's character is talked into taking his place.  He wears a comedy wig and mustache as well as an inflated costume.  Which results in his floating around the circus tent …  While his fiancee is watching in the circus audience.'
Later, when another cave-in' strands Danny Kaye's Andrew Larabee and Selena alone, her relatives assume the worst and force them to get engaged.  A wonderful scene follows, with a large engagement party with a hilarious singing and dancing routine, "Bona Fortuna." Danny Kaye "escapes" the engagement (and the circus), to return home to his family and fiancee' and teaching responsibilities …' only to realize that the circus has gotten into his blood.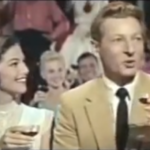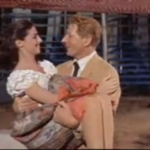 Danny Kaye/Merry Andrew returns to his fiancee, only to realize that he doesn't love her … and that his brother, Dudley, does.'  He returns to his teaching, only to brighten up his lessons with bits and pieces of circus skills.'  Danny Keye/Merry Andrew is scheduled to get married on Saturday morning … the same day he was supposed to marry Selena.
After a late night visit from Angelina the chimpanzee (and Selena),' his students run away the next day (Saturday, of course) to see the circus.'  Danny Kaye/Merry Andrew runs after them, only to be kidnapped from the audience by Selena's five jealous male cousins.  A hilarious, madcap circus routine follows as Danny Kaye/Merry Andrew tries to escape.  Danny Kaye/Merry Andrew's family and fiancee show up at the circus in search of Andrew.  Danny Kaye/Merry Andrew explains the situation with the following bittersweet statement: "Selena, this is the girl that I'm going to marry.  Letitia, this is the girl I love."
Of course, things get straightened out, with a happy ending all around.  An excellent movie, both romantic and hilarious.  It gives Danny Kaye a chance to be a clown, a singer, a dancer, and a very good actor as well.  Highly recommended, I rate it 4 clowns.
Editorial review of Merry Andrew (1958), starring Danny Kaye, courtesy of' Amazon.com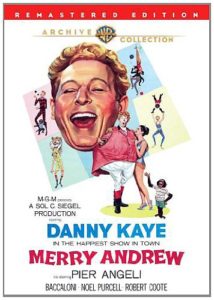 Archaeologist Andrew Larabee tunnels below an English meadow, seeking a rare historical relic. His shoveling takes him back to the surface…and into the lions' cage during a circus act. Just like that, a star – or at least a Joey – €is born. A Joey is circus-speak for clown and who better to play that clown than Danny Kaye? The effusive star unleashes his singing, swooning and jesting talents in this bright musical-comedy tale of circus extravaganza and romantic complications. Famed choreographer Michael Kidd (Seven Brides for Seven Brothers) makes his lone movie directorial effort one to cheer the heart, particularly with the rolling-bicycle number Everything Is Tickety-Boo and in the center-ring-romp Salud. Have a Merry Andrew time!
---
Music from Merry Andrew includes:
Salud
The Square of the Hypotenuse
You Can't Always Have What You Want
---