Earl Chaney (March 6, 1945 – )
Earl Chaney – Mr. Clown – has been making children of all ages laugh for over twenty years.
He perfected his clowning talent in Clown College.  Earl Chaney went on to become one of the best-loved clown characters with the Ringling Brothers Circus from 1972 through 1975.
After leaving the circus to pursue his own business interests in the clowning field, he played throughout the United States from 1975 through 1984 with Buttons' Clown Alley and American Contemporary Clowns.   During this same time, Earl Chaney was the original Ronald McDonald.  He was seen on many McDonald television ads, for over 20 years. He has also conducted clowning lectures for such prestigious organisations as Clowns of America, The World Clown Association, The Shriners, and others from coast to coast. Spreading his knowledge through joy-filled lectures continues to be a big part of his business.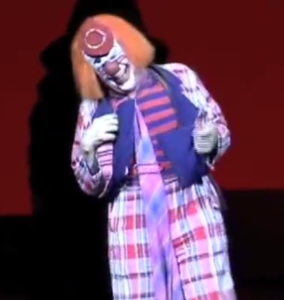 In addition to teaching the art of clowning, since 1982 Earl Chaney has lectured on magic.  Groups before which he has appeared include the Magic Get-Together in Anaheim, California, The Bakersfield Mystics, and the Society of American Magicians chapter in Omaha, Nebraska, and other chapters throughout the United States. At his home base in Las Vegas, Nevada, he conducts a thriving clowning operation called, Mister Clown's Suitcase Circus.  He entertains at birthday parties, school programs, trade shows, conventions, grand openings, sales promotions, and church functions.  He has appeared in numerous newspaper and magazine articles, as well as radio and television programs and commercials. Earl also has a very unique, magic shop called Planet Mirth, located next to Studio Open. He will show you magic tricks and dazzle you with his talents, not only of magic, but also with his natural ability to bring a smile to your face.  After taking a class at Studio Open, don't forget to pick up a sparkle of magic from Earl before you leave.