Book review of Arthur Marx's Groucho – A Photographic Journey
Product description of Arthur Marx's Groucho – A Photographic Journey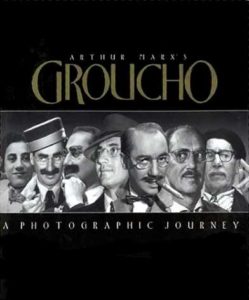 As the son of the world's funniest comedian, Arthur Marx had an insider's view of the ever-changing landscape of American entertainment. Arthur Marx's GROUCHO offers never before seen images of his legendary family and the Hollywood scene of the 20th century. Recently discovered, never before seen candid photographs taken by Arthur Marx are at the heart of the Marx Family journey through vaudeville, Broadway, film, radio and television. Here are intimate, poignant and hilarious images of Groucho Marx, the family man, and Groucho Marx, the artist, backstage with brothers Harpo and Chico on the MGM lot. A portrait of Groucho at home in the Twenties through the Seventies emerges before a backdrop of Hollywood icons including Marilyn Monroe, Billy Wilder and Jack Lemmon shooting "Some Like It Hot", Bob Hope, Lucille Ball, Desi Arnaz, Jimmy Durante, Red Skelton, Dorothy Lamour, Carmen Miranda, Laurel & Hardy, Jayne Mansfield, Frank Sinatra, Mickey Rooney, Audrey Hepburn, Danny Kaye, Cary Grant, Ginger Rogers, James Cagney, Carole Lombard and, of course, the Marx Brothers.
About the Author, Arthur Marx
Since getting out of the service after World War II in 1945, Arthur Marx has enjoyed a prolific writing career, both as an individual and collaborator in every medium – radio, stage, television, film and print. Mr. Marx has written radio scripts for Milton Berle, several films for Bob Hope and television episodes for Lucille Ball. His television credits include an episode of the classic "All in the Family" and four years as writer/script consultant on the long-running "Alice." With Robert Fisher he has co-authored "The Impossible Years" which starred Alan King and ran 645 performances on Broadway; "Minnie's Boys," the story of the young Marx Brothers starring Shelley Winters, "My Daughter's Rated X," a comedy that won the Straw Hat Award in 1970 for 'The Best Play of the Summer Season' and the New York hit "Groucho: A Life in Revue," which opened to unanimous rave reviews. He was nominated for a New York Outer Critics Circle Award for 'Best Play' and London's Laurence Olivier Award for 'Comedy of the Year.' By himself, Mr. Marx has written twelve successful books including "The Ordeal of Willie Brown," "Life With Groucho," "Not as a Crocodile," "Son of Groucho," "Goldwyn," "Red Skelton," "Martin & Lewis" and "The Nine Lives of Mickey Rooney." In addition, Mr. Marx has been a contributor to many major magazines including The New York Times Magazine, Sports Illustrated, Parade and has written many cover stories for Cigar Aficionado.