Book Reviews – Be A Clown! – The Complete Guide to Instant Clowning by Turk Pipkin, Walt Chrynwski, Chris Reed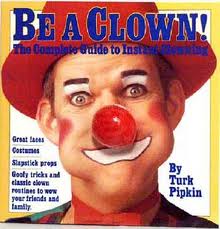 (Editor's note: this book should not be confused with the children's book "Be A Clown" nor Mark Stolzenberg's Be A Clown, and has no relation to Cole Porter's classic song "Be A Clown")
Paperback – 104 pages
A very nice book – light and lively, easily read, many photos, with a good insight into the mind & heart of a clown. This lively, humorous handbook covers all aspects of clownmanship, including makeup, funny faces, costume (including inexpensive clown-size shoes), and props (including a favorite Red Skelton routine, the Bouncing Hankie). Encourages the reader to create a clown persona with many photos and suggestions. Several getting-started routines are included. Develop your own oddball walk, swallow chair legs — you'll always have a stunt up your sleeve. Written by the towering Turk Pipkin, a 6′ 7″ professional clown.
Includes plastic clown nose (OK for starting, but you'll want to get a "real" nose). The more I read it, the more I like it.
Table of Contents for Be A Clown! The Complete Guide to Instant Clowning
Introduction: Step Right Up
A very good introduction to the book, and to clowning in general. Italicized entries are sidebars or pull-outs, discussing something of interest, typically a clown bit, skit, or piece of advice — in this instance, the classic balancing a (ping pong ball, feather, cup, etc.) on your clown nose.
Who Am I?
Balance a Ping Pong Ball on Your Nose
The Heart of a Clown
Five Great Clown Handshakes
Ring One: Get Ready
To Speak or Not To Speak
Will your clown speak, or be silent? Discussing the pros and cons of each, as well as non-verbal communication, which is vital for both styles of clowning. As an aside, I love the Flea Circus skit! You can see a version of that on film in Charlie Chaplin's Limelight.
Talking Clowns
Silent Clowns
Trick or Treat
A Flea Circus
Your Clown Costume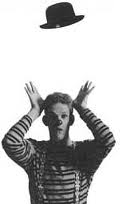 Central to your clown character, discussing your costume. He begins with hats, which many clowns use — but as he says in Suited to You, if it doesn't fit your character, don't use it! You can see the Spring-loaded Hat Trick to the right. He also discusses some inexpensive (and creative) ways to get some clown shoes that match your character.
Start at the Top: Clown Hats
Spring-loaded Hat Trick
Suited to You
If the Shoe Fits… Don't Wear it!
The First Steps
Something overlooked by a lot of introductory clowning books is the walk, or posture, of a clown. Remember Groucho Marx? You should. Remember the distinctive walk of Carol Burnett's 'Mrs. H-Whiggins'?
Your Own Walk
Famous Clown Walks
Make-Up: Creating a Unique Face
Using a minimalist, everyman style of make-up. If that works for you, wonderful! If not, feel free to consult a different book, such as Strutter's Complete Guide to Clown Make-Up.
What Will Your New Face Look Like?
Make-Up Tips
Clown props
Special Delivery
The Bouncing Apple
The Bouncing Hankie
In a Classy Joint
Think Like a Clown
The essential part of clowning — how to think like a clown.
Make 'Em Laugh
Running Gags
Ring Two: Get Set
Clown Skills
A very basic introduction to some of the better-known skills your clown might use, but covering the basics. And the classic Boxing Sketch does a good job of demonstrating how to do slapstick safely and properly.
Balancing
Juggling
Slap, Slap, slapstick
A Clown Class: The Boxing Sketch
Anywhere
Satire and Parody
The Clown Marksman
The Clown Magician
The Sword Swallower
Clowning With Kids
Hey Kids! Shaking hands
Balloon Animals
Who's There? (Following in your Footsteps)
Afghan Bands: The Story of the Circus Belts
A Stunt That Wows!
At a Party
Audience Participation
I have to admit, I'm a big fan of audience participation sketches. And a much bigger fan of the Parade of Elephants after seeing it done live at Clown Camp 1998 by Brenda Ahern — it works, and it's hilarious!
The Parade of Elephants
The World's Strongest Clown
The Sideshow
Around the Circus
More Classic Clown Turns
Circus Lingo
Ring Three: Go!
Once a Clown
Putting It All Together
Kiss You! I Hardly Know You!
Appendix: Sweeping Up The Sawdust
Where To Now?
Schools for Clowns
Equipment and Information
Index
I rate it 4 clowns




 on a 5-clown scale.