Ricky Has Labor Pains – I Love Lucy episode 54, season 2, originally aired 1/5/1954
Ricky is feeling left out, since Lucy is getting all of the attention with the upcoming birth. Fred decides to throw him a "Daddy Shower," but Lucy and Ethel fear that it will be more like a bachelor's party. And decide to crash the party in disguise.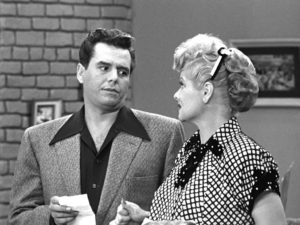 Ricky Has Labor Pains begins with Ricky expecting roast beef for dinner. And Ricky is going to be disappointed. Lucy has bought the roast beef – it's on her to-do list. But she's neglected to cook it since she was so busy getting ready for her baby show. And she didn't pick up his laundry, even though that was on the list. Or his tuxedo. So Ricky leaves – with the list.
The next morning, Ricky's in bed feeling ill with an unexpected stomach ache, dizzy spells, and other symptoms. Symptoms that the doctor blames on sympathy pains. They're not unusual for "expectant fathers," after all. So Lucy and Ethel get the idea of throwing Ricky a "Daddy party," which perks him right up. And Fred leaves to invite the fellows and make preparations for the "stag party." But that term makes Lucy and Ethel suspicious. So the very-pregnant Lucy gets the idea of infiltrating the party …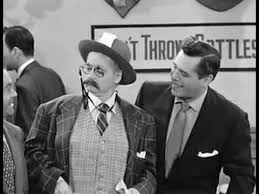 There's a large cast of Ricky's friends – all of whom bring a bottle of beer as a present. Lucy and Ethel appear in disguise as reporters. From the New York Herald Times Tribune. Ricky, of course, sees through their transparent disguises, and "introduces" the reporters to some of his friends – who let them in on the gag. Ricky's agent, Jerry, tries to tell the "reporters" a "dirty" joke – just to see how they'll react – only for the girls to keep interrupting. And after Lucy flashes herself in the eye, Ricky and Fred reveal that they're in on it, and after a kiss, all ends well.
There's a final moment, where Ricky has run out to get Lucy a midnight snack for her cravings. A revolting concoction, that Ricky wants a taste of after she lets the cat out of the bag about the Daddy shower and Ricky's sympathetic labor pains.
Ricky Has Labor Pains is available as part of the season 2 I Love Lucy DVD collection.
Quotes from I Love Lucy – Ricky Has Labor Pains
Lucy Ricardo (Lucille Ball): [reading from newspaper]: Carrot-top Lucy Ricard, formerly Lucy McGillicuddy, and currently one of show business' most beautiful wives, is infanticipating.
Lucy Ricardo (Lucille Ball): Ricky, how did you see through my disguise?
Ricky Ricardo (Desi Arnaz): For one thing, you're wearing my best tie. And you're the only man I know who has his mustache held on with Scotch tape.
Ethel Mertz (Vivian Vance): [wearing a business suit and mustache] Fred, how did you see through my disguise?
Fred Mertz (William Frawley): What disguise?
Trivia from I Love Lucy – Ricky Has Labor Pains
Lucy reads a McCall's magazine with an I Love Lucy article highlighted on the cover.
Ricky's physician, Dr. Rabwin, is named in honor of Dr. Marcus Rabwin, a close friend of Desi Arnaz and Lucille Ball.