The Lucy Show – the official first season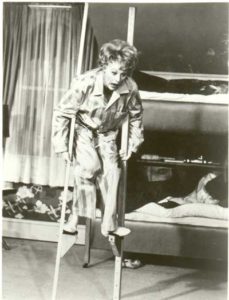 The Lucy Show was Lucille Ball's return to primetime television after her first successful television series, I Love Lucy — €"and her well-publicized divorce from Desi Arnaz.  She was initially hesitant to do another weekly series, since she knew the work load involved — and she didn't know how American audiences would react to her after her divorce. One of the stipulations she had with the new CBS show was that she wanted Desi to be its executive producer, (which he was for the first season), as Lucy knew Desi had the mind and ability to produce a top-rated show.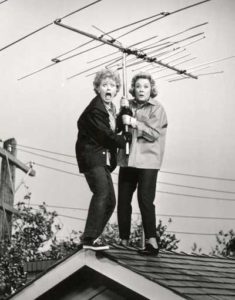 She also wanted her friend, Vivian Vance, to star along with her. Lucy's demands were met, with Lucy playing the role of Lucy Carmichael, widow, and Vivian playing the role of Vivian Bagley, a divorcee. They were two single women, living together, trying to figure out how to live on their own. It was a very funny series, and I enjoy watching it — €"I hope you do as well.
Editorial review of The Lucy Show season one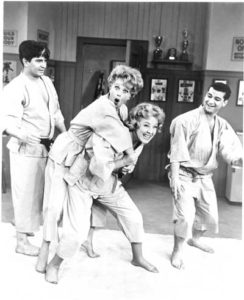 The Lucy Show does not have the iconic status of I Love Lucy, but it was a worthy and very popular successor (it was the fifth-rated show in its inaugural season). Based on a book, Life Without George, it was something of a groundbreaking series in that it centered on two single moms: one, Lucy, a widower, and the other, Vivian (Vivian Vance), a divorcee (the first such sitcom character). Vivian and her son, Sherman (Ralph Hart), share Lucy's suburban home in Danfield, New York, with her two children: teenage daughter Chris (Candy Moore) and wisecracking young son Jerry (Jimmy Garrett), who delivers zingers like a pint-sized Fred Mertz.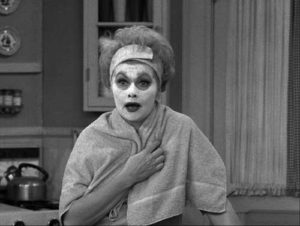 Don't look for Gale Gordon as banker Mr. Mooney. He doesn't arrive until season two. The great Charles Lane (one of Mr. Potter's minions in It's a Wonderful Life) appears this season as cranky Mr. Barnsdahl, who is in charge of Lucy's trust fund. Also appearing this season only is Dick Martin, of Rowan & Martin fame, as Lucy's neighbor, Harry. The Lucy Show is more contemporary than I Love Lucy. One episode references the dance craze, the Watusi. "Lucy Visits the White House" directly references the Kennedy clan and includes some mild political humor. When Lucy asks a diner counter man (Alan Reed, the unmistakable voice of Fred Flintstone) why he won't give her sugar cubes to rebuild a damaged model White House to present to the president, he replies "I'm a Republican."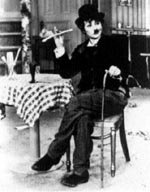 But The Lucy Show has aged gracefully thanks to the timeless physical comedy Lucy performs with Chaplin-esque grace (in "Chris's New Year's Eve Party," she appears in a silent movie routine as the Little Tramp). Episodes may begin routinely, but they inevitably end up with Lucy and Viv stuck in a rapidly filling shower stall, wrestling with a circus elephant, or some other outrageous predicament.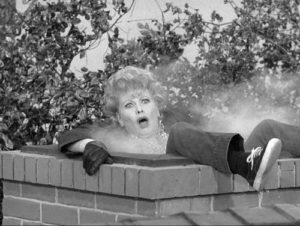 The Lucy Show is not as widely syndicated as I Love Lucy so these episodes have not been rerun to death. A treasure trove of archival extras includes an interview with Lucie Arnaz, who made her screen debut opposite her mother in the first-season episode "Lucy Is a Soda Jerk," and another with Garrett, who tells some great and heartfelt stories about working with Lucy. Also fun are commercials that feature members of the cast in character, and clips from a 1962 CBS special, "Opening Night," which previewed the network's fall lineup. With all this, what's not to love? –Donald Liebenson
Episode list for The Lucy Show season one
Lucy Waits Up For Chris
Lucy Digs Up A Date
Lucy Is A Referee (Desi Arnaz Guest Stars)
Lucy Misplaces $2,000.00
Lucy Buys A Sheep
Lucy Becomes An Astronaut (Nancy Kulp Guest Stars)
Lucy Is A Kangaroo For A Day
Lucy, The Music Lover
Lucy Puts Up An Antenna
Vivian Sues Lucy
Lucy Builds A Rumpus Room
Lucy And Her Electric Mattress
Together For Christmas (Mitchell Boys Choir Guest Star)
Chris' New Years Eve Party
Lucy's Sister Pays A Visit
Lucy And Viv Are Volunteer Firemen
Lucy Becomes A Reporter
Lucy And Viv Put In A Shower
Lucy's Barbershop Quartet
Lucy And Viv Become Tycoons
No More Double Dates
Lucy And Viv Learn Judo
Lucy Is A Soda Jerk
Lucy Drives A Dumptruck
Lucy Visits The White House (Elliot Reed Is The Voice Of JFK)
Lucy And Viv Take Up Chemistry
Lucy Is A Chaperone
Lucy And The Little League (Desi Arnaz Guest Stars)
Lucy And The Runaway Butterfly
Lucy Buys A Boat