Emmett Kelly, Sr. (December 9, 1898 – March 28, 1979) – Weary Willy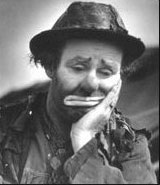 Emmett Kelly Sr., the most well-known of the tramp clowns of the circus. His character, Weary Willy, was the perpetual underdog, who never gave up – and, because of it, occasionally won.   He was inducted into the Clown Hall of Fame in 1989.  In 2007, the Emmett Kelly Museum celebrated its' 40th anniversary with an attempt at breaking the world's record for the largest gathering of clowns.
Emmett Kelly Sr. – early years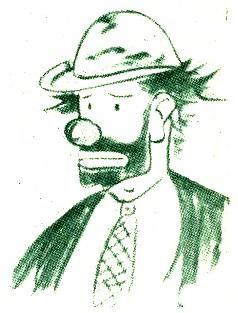 Emmett Kelly Sr. was born in Sedan, Kansas on December 9, 1898. His father worked the railroad, and his mother ran the family-owned boarding house. Sedan has created the Emmett Kelly Museum in his honor. He grew up, not in Sedan, but on a farm in rural Missouri. He worked at various jobs, finally seeming to settle down working as a cartoonist for a silent film company in Kansas City. It was there that Emmett Kelly first drew the tramp clown character that he would later portray, Weary Willy.
Emmett Kelly Sr. joins the circus
Although gainfully employed, Emmett Kelly had dreamed of joining the circus since he was a young boy, as many of us did. Emmett, however, worked to make that dream a reality by purchasing a trapeze, and learning how to become a circus … aerialist. His first performing circus job (he had previously worked painting circus wagons) was as a trapeze artist with Howe's Great London Circus — with Emmett doubling as a clown. Emmett agreed, and began performing, not as Weary Willie, but as a white-face clown.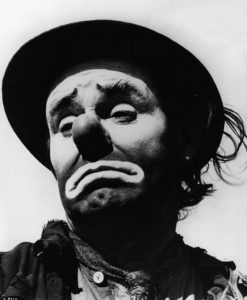 By 1923, Emmett Kelly was working his trapeze act with John Robinson's circus when he met and married Eva Moore, another circus trapeze artist. They later performed together as the "Aerial Kellys" with Emmett still performing occasionally as a white face clown.
The next year, Eva became pregnant and Emmett Kelly tried to increase his salary by developing a new clown character for the show based on his sketches of Weary Willy. The boss clown of the circus thought that the tramp clown wasn't appropriate for the circus — Weary Willy was, in his opinion, too scruffy and dirty looking. Emmett returned to the trapeze and his white-faced clown until the Great Depression made the appearance of tramps and hobos more acceptable to American audiences. In 1933, Emmett Kelly appeared as the now-famous Weary Willy as his standard clown character.
Emmett Kelly Sr. – performing as Weary Willie, tramp clown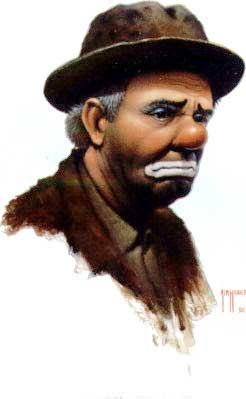 With the Great Depression, work became harder to come by — Emmett Kelly worked at Hagenbeck-Wallace Circus, later joining the Cole Brothers & Clyde Beatty Circus in 1935, and joining the Mills Circus in England in the late 1930's. While performing in Europe, he performed for the Queen of Spain and Winston Churchill, among other notables. It was in London that he came to the attention of John Ringling North, who eventually signed Emmett Kelly in 1942 for the Ringling Brothers Barnum and Bailey Circus — after Kelly had turned The Big Show down twice.
Emmett Kelly, in his guise as Weary Willie, did not join the huge Spectacle numbers at the conclusion of each performance, but instead wandered into other performers' acts — string up laundry on a low acrobatic wire, dusting off animals, and working the stands. Read a first-person account of one of Emmett Kelly's circus performances. In addition, Emmett Kelly also performed in the ring in his own acts, with the most famous undoubtedly being his "sweeping the spotlight" routine. (An otherwise unremarkable children's movie, The Clown and the Kids, stars Emmett Kelly Sr., including a rendition of his sweeping the spotlight routine).
Emmett Kelly Sr. remained with the Ringling Brothers Barnum & Bailey Circus for fourteen seasons, taking the 1956 season off to perform as the 'mascot' for the Brooklyn Dodgers. Emmett was active on Broadway ("Please Keep off the Grass") and movies (notably the circus classic The Greatest Show on Earth
and Fellini's classic The Clowns). Beginning in 1957, he worked with the Shrine Circus and made personal appearances worldwide.
Emmett Kelly Sr. died of a heart attack on March 28, 1979, at his home in Sarasota, Florida, USA. He is memorialized by the Emmett Kelly Museum in his birth town of Sedan, KS.
Emmett Kelly Sr. Quotes
"By laughing at me, the audience really laughs at themselves and realizing they have done this, gives them sort of a spiritual second wind for going back into the battles of life."
Bibliography for Emmett Kelly Sr.
Clown, by Emmett Kelly Sr.

Emmett Kelly's autobiography, written a few years before his death, containing much information about the creation and performance of his Weary Willie character.