Oona O'Neil Chaplin (May 14, 1926 – September 27, 1991)
Best remembered as Charlie Chaplin's final wife, Oona O'Neil was born on May 13, 1926, the only daughter to the famous playwright Eugene O'Neil and his wife, Agnes.Her father abandoned the family when Oona was only 2 years old. She only saw her a few times before her 18th birthday, when he disinherited her.
Oona O'Neil's early life
Despite her father's attitude toward her, Oona has a relatively happy childhood. She grew up with her older brother Shane, and her mother. She was an intelligent, happy child, liked by her peers. As she grew older, she planned to become an actress. After all, her father was a great playwright, and her grandfather, James O'Neil, was a noted theater actor. She attended boarding school in New York City, and became a socialite with many boyfriends, with her name appearing regularly in the society pages.
Her father, who was now a Nobel Laureate, disapproved, believing that she was attempting to cash in on his fame. He wrote her, "…All the publicity you have had is the wrong kind, unless your ambition is to be a second-rate movie actress of the floozie variety…". Although Oona always wanted a close relationship with her father, she was disappointed. Her last face to face contact with her father was at his home on the west coast in 1941, when she was still in high school. She never saw him again, despite her attempts; in fact, Eugene O'Neil disinherited Oona, her brother Shane, and all their children.
Oona O'Neil meets Charlie Chaplin
In 1942, Oona O'Neil turned down an opportunity to attend Vassar, and traveled to Hollywood to pursue an acting career. It was there that she first met Charlie Chaplin. Oona auditioned for one of his films, but did not get the part. However, in 1943 she got something entirely different; she became married to Charlie Chaplin. Oona's father, not surprisingly, did not approve, and cut off all communications with her.
Oona dropped all plans of becoming an actress upon her marriage to Charlie Chaplin. Unlike his previous marriages, Charlie's marriage to Oona was a match made in heaven, despite their age differences — he was 56 years old, and Oona was only 17. Despite this, they were inseparable and devoted to each other.
Oona was instrumental to her husband's retaining his American assets after the State Department's debacle of refusing Chaplin's return to the United States, and in many other ways became his partner. Charlie would often ask her ideas, and often use them. She even made an appearance on screen in Charlie Chaplin's movie, Limelight, when Charlie wanted to re-shoot a scene after his costar had left — Oona filled in, lying in the "invalid's" bed in a long shot. Several of Charlie and Oona's children appeared in the film as well.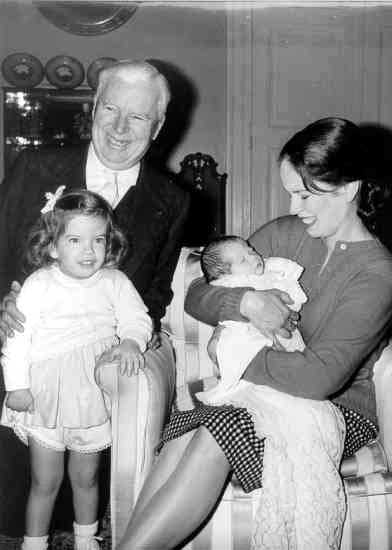 Oona and Charlie had 8 children together. The entire family eventually moved to Vevey, Switzerland after Charlie Chaplin's exile from the USA. Their house there is now being made into a Charlie Chaplin Museum.
Oona first returned to America in 1967, returning to her childhood home. Although she had sent money and tried to stay in contact via telephone, her mother and brother had not prospered in her absence. Her brother had become addicted to drugs, and was in and out of treatment, and her mother's health had deteriorated severely. She returned to her childhood home to help as best she could. In the end, she returned to Switzerland and her beloved Charlie. She did not see America again until 1972, when she accompanied her husband Charlie Chaplin to receive a special achievement Oscar at the academy awards.
Oona O'Neil Chaplin's later years
After Charlie's death on Christmas Day, 1977, Oona's life changed forever. Like her father and brother, she fought her own unsuccessful battle with alcohol. She tried to help her children with their lives, continued her life as a socialite, and finally starred in a movie, Broken English — her sole film. She died in 1991 of pancreatic cancer.