Police (1916) starring Charlie Chaplin, Edna Purviance
Police is an Essanay silent comedy starring Charlie Chaplin, as Charlie – convict 999.  The film begins with him being released from prison and given $5.00 (a large sum at the time).  No sooner is he out, however, then a bogus parson tries to convince him to "go straight".  Reading Bible passages brings him to the point of tears.  While Charlie wipes his tears on the man's long beard, the bogus parson picks his pocket of the money.
Unknowingly, Charlie goes to buy some fruit – a funny scene, as at first he's finicky, then panicky as he realizes that he has no money.  The penniless Charlie tries to get into a flophouse to spend the night – funny ass he fights with another man about who goes first.  Eventually, he's thrown out for being unable to pay, and is held up!  In what appears to be a change of luck, the man is Charlie's old cellmate.  And the man invites him to help him rob a house …
The housebreaking scene is hilarious, with Charlie trying to jimmy a window.  And knocking a policeman (John Rand) unconscious – not for the first time, or the last.  Once they break in (through the unlocked front door), Charlie's fears have him jumping at his own shadows.  Leading to his "friend" to abuse and intimidate him.  And then Edna Purviance comes downstairs …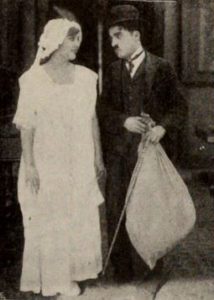 She beseeches the robbers to not go upstairs.  Her sickly mother is there, and the fright may kill her.  Soft-hearted Charlie agrees, but not the other criminal.  And soon, they fight, and the police come to take them both away.  But Edna pretends that Charlie is her husband, to repay him for his help.
And Charlie walks off into the sunset, in a land of opportunity … until that one police officer sees him, and the chase continues as the film ends.
Cast of characters in Police
Convict 999 Alias Charlie (Charlie Chaplin).  The ex-convict who keeps trying to go straight.  And keeps being betrayed by people who offer to help.  Until he meets Edna.
The Girl (Edna Purviance).  The pretty young girl, who doesn't care as much about her items being stolen, as keeping her mother safe.  And later, protecting Charlie.
The Crook (Wesley Ruggles).  Charlie's "friend", who wants to use him to break into a house.  And has no trouble pushing him around.
The Cop (John Rand, The Circus, You Nazty Spy!).  One of the funniest parts of Police.  A very funny "straight man" role, and a good foil for Charlie.
Bogus Parson / Second Cop (Billy Armstrong, The Bank)
First Flophouse Customer (

Snub Pollard

)
Third Flophouse Customer (Bud Jamison).