My Autobiography – Charlie Chaplin's final, and best, autobiography
A wonderful autobiography of Charlie Chaplin. It gives details on much of his life, and gives a very good view into the many facets of his personality. He speaks candidly about his early life, his immaturity at relationships (and the pain they caused him), about The Tramp, and the films that came after, about his great friend Douglas Fairbanks, about the formation of United Artists, and about the true love of his life, Oona O'Neil Chaplin.It is remarkably well-rounded, and neither self-serving nor self-aggrandizing. However, he gives in to the temptation of name-dropping on far too many occasions. Even so, it is easily read, filled with wonderful anecdote piled on another. For example, do you know the relationship between Charlie Chaplin and the assassination of the Japanese Prime Minister? Read the book, and you will.
Book Description of My Autobiography by Charlie Chaplin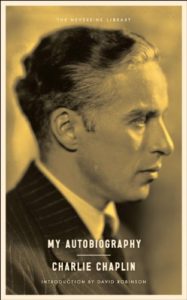 Born into a theatrical family, Chaplin's father died of drink while his mother, unable to bear the poverty, suffered from bouts of insanity, Chaplin embarked on a film-making career which won him immeasurable success, as well as intense controversy. His extraordinary autobiography was first published in 1964 and was written almost entirely without reference to documentation – simply as an astonishing feat of memory by a 75-year-old man. It is an incomparably vivid reconstruction of a poor London childhood, the music hall and then his prodigious life in the movies.
Table of Contents of My Autobiography by Charlie Chaplin
Prelude
In only a few short pages, Charlie Chaplin sets the stage for his depressing home life, and foreshadows what is about to happen to his beloved mother, as she sinks deeper into mental illness.
Chapter 1
Charlie Chaplin introduces the people involved in his early life. His mother, Hannah, whom he idolized, his alcoholic father, his half-brother Sydney who he adored. Some family background is given, as is a description of the breakup of his parents' marriage, and the family's descent into poverty. He also describes his first appearance on stage as a child, on the night that his mother's voice gave out ending her theatrical career.
Chapter 2
Charlie and his brother Sydney are relegated to the workhouse – a government facility for the poor. Later, their mother has the first of many mental collapses. This led the Chaplin boys to live for a while with their father and his new wife. Which caused significant stress between the boys and the new wife — and their new half-brother. Charlie's mother recovers, and the boys leave to live with her again.
Chapter 3
Young Charlie has his first serious taste of the stage performing with a group of boy dancers, the Eight Lancashire Lads. Stan Laurel was likewise a member of the troupe, although Charlie makes no mention of it, or of Stan. Some interesting stories are told about the other vaudeville performers Charlie ran into. Another involves the Eight Lancashire Lads performing in a benefit for Charlie's own father. Charlie developed asthma, however, and had to leave the troupe. After a brief interlude in high society, the chapter ends with the family back in the grips of poverty.
Chapter 4
Charlie tells of their hand to mouth existence.  He goes on to tell of the last time he saw his father alive. Shortly before his father died at the age of 37. After the funeral, things go from bad to worse. Sydney is at sea working on a ship when Charlie's mother lapses again into insanity. This leaves young Charlie to fend for himself for several weeks.