Mabel's Strange Predicament, starring Charlie Chaplin, Mabel Normand – February 9, 1914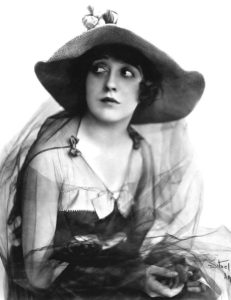 Mabel's Strange Predicament
is a short film, 17 minutes long, starring Mabel Normand,
with Charlie Chaplin as the villain of the picture
.   Mabel Normand was, at the time, a major film star, as well as one of the first female movie directors.   However, she is now remembered primarily for her work with Charlie Chaplin.   In this movie, however, Mabel
Normand is clearly the star, with Charlie Chaplin in a supporting role
.   Although
dressed as the Tramp
, Charlie Chaplin is
not in character as the Tramp
in this film.   Rather, he plays a variation on his inebriate character that he made famous on the London stage.
The basic plot is that the inebriated Charlie Chaplin runs into an elegant lady (Mabel Normand) in the hotel lobby, gets tied up in her dog's leash, and falls down.   Later, Charlie runs into the same lady in the hotel corridor, where she has been locked out of her room.   A chase follows, with Charlie chasing Mabel through various rooms, with Mabel ending up in the room of an elderly husband, where she hides under the bed when his wife and Mabel's lover come chasing.
Trivia for Mabel's Strange Predicament starring Charlie Chaplin
Banned by Swedish censors, who found it "brutalising" because of the amorous scene