Monkey Business, starring Groucho Marx, Chico Marx, Harpo Marx, Zeppo Marx, Thelma Todd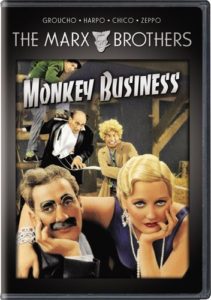 In Monkey Business, Groucho, Harpo, Chico and Zeppo are four stowaways on board ship, destined for the United States of America. After being discovered hiding in barrels (and singing Sweet Adeline), they are pursued by the ship's crew, to hilarious effect. Zeppo and Groucho wind up working as bodyguards for one gangster on board, while Chico and Harpo do the same for a rival gangster. After docking, the four borrow a passport and impersonate its' owner, Maurice Chevalier (who doesn't appear in the film) to gain entrance to the country, by singing one of Chevalier's songs to prove that each of them, including the silent Harpo, is Mr. Chevalier.
The last part of the film involves the brothers at a high society party, giving Groucho an opportunity to insult the guests, Chico and Harpo to play their instruments, and foil a kidnapping and rescue Zeppo's love interest.
Classic moments include a plethora of one-liners from Groucho, the Chevalier imitation, Harpo intruding on a Punch and Judy skit, Groucho and Harpo invading the Captain's quarters, Chico and Harpo pretending to be barbers, and virtually all of Groucho's interactions with Thelma Todd.
Be sure to enjoy the verbal comedy in funny movie quotes from Monkey Business.
---
Trivia about the Marx Brothers' movie Monkey Business:
Cameo appearance by Sam Marx, the father of the Marx Brothers – sitting on the crates behind them after they're carried off the ship.
Early in the movie, the Marx Brothers playing stowaways concealed in barrels harmonize unseen while performing the popular song Sweet Adeline. It is debated whether Harpo was actually singing or not.
The first Marx Brothers film written especially for the screen.
The first Marx Brothers film to be produced in Hollywood.
The first Marx Brothers film not to feature Margaret Dumont. It was felt she was not sexy enough for the part.
Except in the credits, the Brothers' characters have no names in this movie. They are referred to only as the stowaways.
In the movie, Groucho Marx tells Thelma Todd, You're a woman who's been getting nothing but dirty breaks. Well, we can clean and tighten your brakes, but you'll have to stay in the garage all night. Four years after making this movie, Thelma Todd died under mysterious circumstances. She was found dead in her car inside her backyard garage with the engine running. It is not known if her death from carbon monoxide poisoning was accidental, a murder, or suicide.
Groucho's line Gary Cooper is much taller than me. becomes Charlton Heston is much taller than me. in the Spanish dubbed version. Heston was only 7 years old when Monkey Business was released.