History of the Marx Brothers – Groucho, Chico, Harpo, Zeppo and Gummo

The Marx Brothers were the original madcap comedy team, who appeared at the beginning of the sound era in film — allowing us to continue enjoying their comedy for many years.  Originally the Marx Brothers were a singing group, pushed forward at the insistence of their mother Minnie, the original stage mother, who was convinced that her sons were going to become stars.   In a sense, in ran in the family — her brother was one of the most popular entertainers of the day,  Al Shean of the comedy team of  Gallagher and Shean.   In addition to helping the Marx family during their financial struggles, Uncle Al also helped rewrite much of their original comedy material.
The Marx Brothers on stage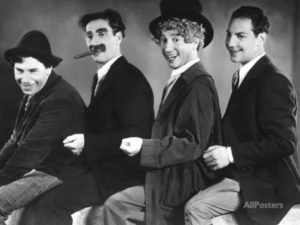 Minnie Marx tried for many years to push her sons into a successful vaudeville career as singers. However, it wasn't until one night, when Minnie was away, that the young boys' madcap antics broke out. They become an overnight success as comic geniuses.   They quickly became vaudeville headlines, even touring the European continent and meeting the royal family of England.   This success went to their heads, however, and they alienated one of the most powerful men in vaudeville. This lead to their being blacklisted.   With that avenue closed to them, thanks to a chance encounter by Chico, they moved on to Broadway. From there they moved on to motion pictures. In that medium, they became some of the most popular movie stars of their day. And they became known worldwide as hilariously funny clowns as well.
The Marx Brothers nicknames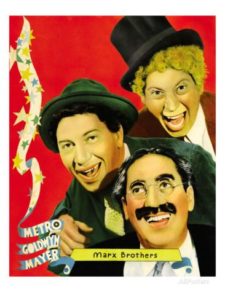 The four brothers (Gummo, Groucho, Chico and Harpo) were given their famous stage names in a card game in vaudeville. Gummo, who retired from the stage before the brothers began making their movies, received his nickname courtesy of his gum-soled shoes. Stories differ on the origin of Groucho's nickname. Some say it was because of the "grouch bag" that he wore around his neck to keep his valuables in. Others say it was because of his petulant personality. Chico (pronounced "Chick-o") was due to his habit of chasing after young ladies. Aka. "chicks" in the slang of that day. Harpo received his nickname in the most straightforward way, due to his playing the harp as part of their stage act. Youngest brother Zeppo received his nickname from his brothers, after a comic strip character, Mr. Zippo.