Review of The Cocoanuts, starring Groucho Marx, Chico Marx, Harpo Marx, Zeppo Marx, Margaret Dumont

 The Cocoanuts was the first movie filmed by the Marx Brothers, and remains one of their funniest. It features the Marx Brothers in the roles that they soon made famous – €  Groucho, with the greasepaint mustache, master of the fast wisecrack;  Chico, the vaguely-Italian pianist who constantly looking to con someone;  Harpo, who never speaks, but is the master of outrageous comedy and pantomime; and Zeppo, the handsome straight man.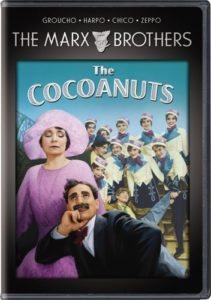 Margaret Dumont, Groucho's perennial foil, appears in this first film as well. There is a plot to the movie, dealing with Groucho trying to flim-flam everyone possible in a land swindle.  But that's frankly of secondary concern to the antics of the Marx Brothers.
One thing to bear in mind is that this is one of the first "speaking" movies – €the sound quality reflects that, as does the music by  Irving Berlin.
Verbal comedy is one of the signature traits of the Marx Brothers – check out their funny movie quotes from The Cocoanuts.
Trivia about the Marx Brothers' The Cocoanuts:
All paper used as props is soaking wet. This was done to prevent overloading the early sound equipment with paper-crinkling noise.
Groucho Marx  said of the film's two directors, "One of them didn't understand English, and the other one didn't understand comedy."
The Cocoanuts was filmed on a stage in New York City. Sound films were still so new that soundproofing was not installed.  So the film had to be shot in the early hours of the morning to reduce outside traffic noise.
Editorial Review of The Cocoanuts (courtesy of Amazon.com)
In the motion picture debut of Groucho, Harpo, Chico and Zeppo Marx, Groucho portrays the owner of the Hotel de Cocoanut who tries to fleece everyone from innocent bellboys and bellgirls to wealthy society matron Mrs. Potter (Margaret Dumont). Chico and Harpo play resort hotel con men who arrive with empty suitcases they plan to fill by robbing guests. Featuring elaborate musical production numbers with music by Academy Award winner Irving Berlin.