James Finlayson – August 27, 1887 – October 9, 1953
James Finlayson, best known for his recurring roles in various Laurel and Hardy films as their foil, was born James Henderson Finlayson on August 27, 1887, in Larbert, Scotland, to his parents Alexander and Isabella. Little is known of his early life, outside of his attempted apprenticeship at his father's iron foundry. He attended George Watson's College before dropping out of the University of Edinburgh to pursue an acting career. He won the main role in the West End production of Bunty Pulls the Strings. Jimmy Finlayson emigrated to the U.S.A. in 1912 to reprise the role on Broadway and dropped out of a country-wide theatrical tour in 1916 to pursue a career in Hollywood. He married Emily Gilbert in July of 1919. James signed a contract with Mack Sennett's Keystone Studios, where he was one of the original Keystone Kops.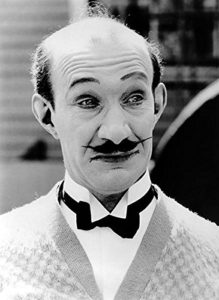 He next signed a contract with Hal Roach Studios. This is where he first worked with Stan Laurel and Oliver Hardy, though not together. Hal Roach thought that Jimmy Finlayson would be another Ben Turpin, although he never caught on that way. Instead, with his characteristic double-take and "slow burn", he became the perfect comic foil for the team of Laurel and Hardy. He played roles in 33 Laurel and Hardy films, usually as a villain or a person determined to get revenge on the pair for getting in his way, especially in the films Big Business (1929), and Way Out West (1937). He also starred alongside Stan Laurel in 19 films, and opposite Oliver Hardy in 5 films before Laurel and Hardy were teamed together.
James Finlayson, D'Oh! and Homer Simpson
James Finlayson used the phrase "D'Oh!" (sometimes long and drawn out, sometimes short and clipped in the style later adopted by Homer Simpson of The Simpsons) in the Laurel and Hardy films, Me and My Pal, Our Relations and many others. At that time the word "damn" was censored in American films. As "Damn!" was and is a very common expression, James Finlayson replaced it with "D'Oh!"€ Actor Dan Castellaneta, who provides the voice of Homer Simpson in The Simpsons, claims that Homer's catchphrase "D'oh!" was based on a very similar utterance used by Finlayson in the Laurel and Hardy films.
James Finlayson died in Los Angeles, California on October 9th, 1953, at the age of 66.