Movie review of the Laurel and Hardy short film Habeas Corpus (1928)
Habeas Corpus is a very funny Laurel and Hardy short film, although it's technically not a "silent" movie.  There's a synchronised music soundtrack, but Stan and Ollie's only dialogue is revealed through cue cards.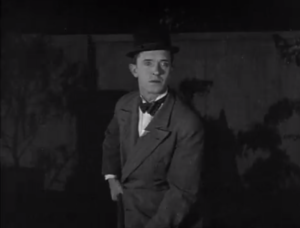 Habeas Corpus begins with Stan Laurel and Oliver Hardy coming to a mansion, looking for food – buttered toast.  Instead, the butler takes them to see "The Professor", a mad scientist.  Literally mad — €as he puts the ashes from his cigarette into his vest pocket, eventually putting them out with a glass of water.   He offers them the princely sum (for the time) of five hundred dollars to go to the local graveyard and dig up bodies for his experiments.  Although unhappy, the monetary temptation is too much for the boys, and they agree.  No sooner have they left than the "butler" reveals himself to be an undercover police officer.  He alerts the precinct that the Professor has gone insane — again.  And that they need to take him back to the sanitarium, while he follows the two "grave robbers" to the cemetery.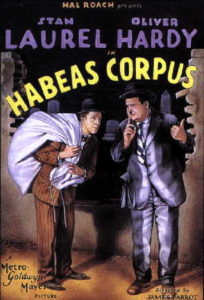 The remainder of the film deals with Laurel and Hardy trying to get into the cemetery, get a body and get back out.  With a recurring theme of Oliver insisting on going first, leading to him getting himself in trouble.  This began back at the Professor's house, and it builds to a crescendo here.  Starting with the obese Oliver insisting that he, not Stanley, climb a street pole to find out where they are.  Unaware that the pole's been freshly painted, ruining the front of his suit.  And getting Stan's white-paint handprints on the bottom of his pants for the rest of the film.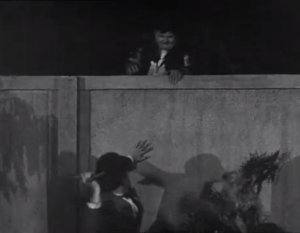 There's plenty more slapstick, dealing with the detective (with a bed sheet) trying to scare our would-be grave robbers, a night watchman, a seemingly-innocent turtle, and a muddy hole.  But I'll leave it to you to enjoy watching the movie yourself.  My children and I truly enjoyed Habeas Corpus and I hope you do as well.  I rate it 4 stars.
Trivia for Laurel and Hardy's short film, Habeas Corpus
This was made as a silent film, then was retrofitted before release with a music track and sound effects. The sound discs were lost for many years, but this is technically Laurel & Hardy's first "sound" film.
The Vitaphone soundtrack with the original music and sound effects are no longer lost. Interestingly, one of the music pieces used is what we all know as the "Alfred Hitchcock theme"!