Review of The Laurel and Hardy Collection, volume 1 (Great Guns / Jitterbugs / The Big Noise)

 After Stan Laurel and Oliver Hardy left the Hal Roach studios, they made several movies for 20th Century Fox.  Unlike at the smaller Roach studio, Laurel and Hardy were relatively small cogs in a fairly large machine.  They had much less control over the making of their movies than previously.  Although not of the same caliber of their earlier films, they still had their charms, and are worth watching.  In The Laurel and Hardy Collection volume 1, the following movies are included: 
The Big Noise
While working as janitors at a detective agency, Laurel and Hardy are mistaken for detectives and hired to protect an inventor and his new explosive – and eventually, recover the explosive, and drop it on a Japanese submarine.  This is the weakest of the films.  Many fans consider it the worst film that Stan and Ollie ever made together.
Trivia about The Big Noise
Unlike their earlier work for Hal Roach, and because of the war, the duo decided not to include "destructive" scenes.  Like pies in the face, smashing props, and so forth. Where it was necessary, they actually enforced a policy of "one take" to minimize the destruction.
The train-berth scene is a reworking of Laurel & Hardy's short subject Berth Marks (1929). Laurel requested that the setting be changed to a turbulent plane, but producer Sol Wurtzel refused to accommodate him. At the end of the scene, you can hear the camera crew laughing in the background.
According to Laurel and Hardy biographer Randy Skretvedt, the film's finale, in which Laurel drops a bomb on a Japanese spy submarine, got cheers from wartime audiences.
Great Guns
Laurel and Hardy join the Army in order to "help" their employer.  Not their funniest film, but not a dud either.
Trivia for Laurel and Hardy's Great Guns
This was Laurel & Hardy's first movie for a major studio, and they were confounded by the ways of the Hollywood studio system. All of their previous films had been shot in sequence and had been directed, edited, and supervised by an uncredited Stan Laurel.  He received no such allowances from Twentieth Century-Fox. In later years, Stan Laurel continually and bitterly recalled the "shabby" treatment he and Hardy received from Fox and MGM.
Jitterbugs was actually a funny movie, comparable to many of their older Roach Studio films.  In it, the two-man Laurel and Hardy Zoot Suit Band find themselves fronting a scam for "gasoline pills" in wartime oil-short America. They are however soon on the side of the angels.  They help recover $10,000 for an attractive young lady whose family has been swindled.
Trivia for The Jitterbugs
While not unique to Jitterbugs, but common to all their WWII offerings, wartime rationing had an impact on the duo's films. In this case, shoes were rationed to three pairs a year, and the dancers had to rehearse in bare feet. And because so many young men had joined the armed forces, the original plan to have 150 jitterbug teams in the jitterbug scene, had to be reduced.  The fifty couples planned were reduced to thirty. Not only that, but the "zoot suits" the duo wore needed a special dispensation.  It was considered a profligate use of material.
Cy Slocum, who played a bouncer in this movie, was Oliver Hardy's stand-in and stunt double in the Laurel and Hardy movies of the 1930's.
According to Laurel and Hardy biographer Scott MacGillivray, the shot where Laurel tears up his gasoline ration cards elicited groans from wartime audiences who were coping with gas shortages.
Editorial review of Laurel and Hardy Collection, Vol. 1 (Great Guns / Jitterbugs / The Big Noise) (1944)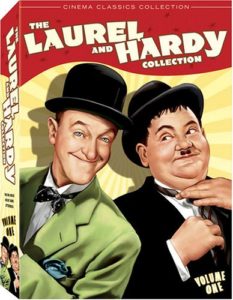 Though Laurel and Hardy fans will attest to the relative weakness of the three films included in this Gift set, 
Great Guns, Jitterbugs
, and 
The Big Noise
, the films still brim with classic Stan and Ollie antics, and more intriguingly, serve as historical markers of American Wartime Cinema. These post-Hal Roach, Twentieth Century Fox releases offer, even in the liner notes, information about how the film industry was influenced by World War II. 
Great Guns'
 plot most directly refers to the war, showing what happens when the Army recruits two clowns. Gunpowder gags, planes dropping flour bombs, and physical comedy inside the barracks, involving cots, dangling light bulbs, and mess kits abound in this film that hopefully entertained soldiers. 
Jitterbugs
, the funniest film in the set, provides comedic escape from hardship by constructing a plot based on a dislike for gas rationing. In 
Jitterbugs
, Stan and Ollie, stars of the Zoot Suit Band, encounter a scam artist who allegedly can turn water into gasoline with an invented pill. Together, the three men swindle their ways into absurd situations, culminating in hilarious scenes of Stan disguised as a wealthy elderly lady who at one point declares, to a bunch of gangsters, that she's feeling "quite gay." Clever double-entendres, subtle wordplay, and co-star Vivian Blaine make this film wonderful. A documentary entitled "Revenge of the Sons of the Desert," about Laurel and Hardy fan clubs and conventions, shows how the wacky spirits of Stan and Ollie live on into the present day. True, these three films may not be their strongest, but they defined comedy during some of America's grimmest times. 
–Trinie Dalton
Product Description of Laurel and Hardy Giftset (Great Guns / Jitterbugs / The Big Noise), courtesy of Amazon.com
Episode Description: Disc 1 "Big Noise": Rating: NR Audio: English: Mono & Stereo Subtitled: English and Spanish Special Features: Commentary by Randy Skredvedt, Photo Gallery, Theatrical Trailer, Laurel and Hardy Theatre: Bullfighters Theatrical Trailer, Great Guns Theatrical Trailer, & The Dancing Master Theatrical Trailer
Disc 2 "Great Guns": Rating: NR Audio: English: Mono & Stereo Subtitled: English & Spanish Special Features: Commentary by Randy Skretvedt, Photo Gallery, Opening the Freemont Theatre Movietone News, Theatrical Trailer, Laurel and Hardy Theatre: Big Noise Theatrical Trailer, Bullfighters Theatrical Trailer, & Jitterbugs Theatrical Trailer
Disc 3 "Jitterbugs": Rating: NR Audio: English: Mono & Stereo Subtitled: English & Spanish Special Features: Commentary by Randy Skretvedt, Photo Gallery, Inauguration of the Railway Movietone News, Theatrical Trailer, Laurel and Hardy Theatre: Big Noise Theatrical Trailer, Bullfighters Theatrical Trailer, & Great Guns Theatrical Trailer