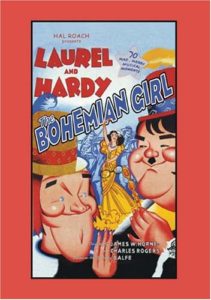 Many people think of The Bohemian Girl as the answer to the trivia question, "What was Thelma Todd's final film?"  €"And that's a crying shame.  The Bohemian Girl is actually one of my favorite Laurel and Hardy films, for several reasons.  It's quick-paced, with some excellent comedic bits between Stan and Ollie.  The interplay between Oliver Hardy and Mae Busch (who plays his nagging, unfaithful wife) is very funny, with their perennial foil James Finlayson making an appearance at the end as "Captain Finn", captain of the guard for the harsh Count Arnheim.
Comedy highlights of The Bohemian Girl include:
Stan's solo wine bottling episode
Stan and Ollie's pickpocketing fiasco
a sleight of hand contest between Stan and Ollie, as well as a game of "fingers"
Stan burrowing under Ollie's mattress to steal some coins
Are there any negatives?  Very few; there are some musical numbers, but these are either short enough or entertaining enough.  Such as Arline's singing about her dream, as "Uncle" Stan clowns around and eats all of Oliver's breakfast.
My children enjoyed The Bohemian Girl as much as I did, and I recommend it highly.
Synopsis of The Bohemian Girl
A traveling band of gypsies, including Stan and Ollie,
Editorial review of movie review of The Bohemian Girl, courtesy of Amazon.com
This Hal Roach production is Laurel & Hardy's last comic operetta and features The Boys as gypsies who, thanks to Ollie's scheming wife, become guardians to a young girl who is in reality a Royal Princess. But of course, things turn out for the best since The Boys do their very best to protect the girl and bring her up properly. This comedy classic was the last screen appearance of beloved Thelma Todd before her untimely death later in the year. A Don't Miss classic for fans of The Boys.
---