Zenobia (1939), starring Oliver Hardy, Billie Burke, Harry Langdon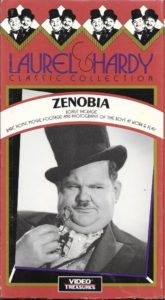 Like The Fighting Kentuckian, Zenobia is one of the few movies that Oliver Hardy made without his partner Stan Laurel after their partnership.  Unlike The Fighting Kentuckian, however, in Zenobia Oliver Hardy is the star of the show, and he carries the comedy very well.   The basic plot has a country doctor named Tibbett, played very well by Oliver Hardy, married to a scatterbrained wife (played wonderfully by Billie Burke).  The movie begins with Oliver Hardy's Dr. Tibbett delivering a baby boy … for a family that already has at least 5 daughters.  Oliver Hardy tells the father, about his medical bill, "Don't worry … this one's on me."  In addition to being visually funny, it also sets a characteristic of Dr. Tibbett – that he's a fine doctor, but a lousy businessman; this becomes important later on.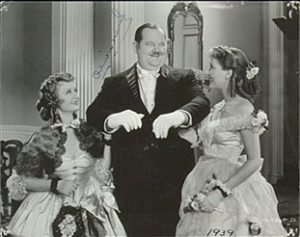 Returning home, his scatterbrained wife has sent an equally scatter-brained servant (played by Step'n Fetchit).  The message is that something vitally important has happened … but he doesn't remember what.  Returning to his house, Dr. Tibbett finds his home in disarray, and can't get a straight answer from anyone, until he asks a young servant boy tells him that Dr. Tibbett's daughter is going to be married.  Her fiancee is a young man, Jeff Carter, whom Dr. Tibbett approves of.  However, Mrs. Carter doesn't approve of the Tibbetts, both because of Dr. Tibbett's refusal to keep treating her hypochondriac symptoms, and because of their reduced income since he no longer takes her money.
This is when a wandering medicine show comes into town, headed by Harry Langdon, who has a sick elephant – the Zenobia of the title.  After protesting, Dr. Tibbett does his best to treat the animal (after some very funny slapstick), and finally unties a knot in her tail.  From that point on, Zenobia is so enamored of the doctor that she follows him everywhere – even to the point of breaking through walls.  Harry Langdon's character, financed by Mrs. Carter, sues Dr. Tibbett for alienation of affection.  The movie ends with a funny, and dramatic, courtroom scene where everything ties together in a happy ending.
Zenobia is a funny film, with both comedy and warmth.  There's a very touching scene between Oliver Hardy's character and that of the young servant boy.  Oliver tries to explain race relations.  Paraphrasing, "in my medical bag, I have black pills, and I have white pills.  Both are needed to make people well".  Oliver gave him a quarter later on for memorizing the Declaration of Independence and taking to heart its lessons about equality and happiness for all people.
It's a very good film, that I enjoyed very much.  I watched it primarily for completeness as part of the Laurel and Hardy website, but I'm very glad that I did.  I rate it 3 clowns out of 5.  Sadly, it's not available on DVD at this time, but it is available on VHS.
Trivia for Zenobia, starring Oliver Hardy, Billie Burke, Harry Langdon
Zenobia was originally developed as a Laurel and Hardy vehicle.  But it was re-scripted after Stan Laurel had a falling out with Hal Roach and left the studio for quite some time in 1938-1939.
Hal Roach Studios approached Walter Winchell about filming an introduction to the film's trailer, calling it "The first full-length feature to incorporate the principles of the Bill of Rights as a motivating force of the story". Winchell declined.
The source of the film was the novel Zenobia's Infidelity by H.C. Bunner and was originally purchased by Roach as a vehicle for Roland Young.
The music was by Marvin Hatley, the composer of "The Cuckoo Song," Laurel and Hardy's famous theme song.
Zenobia is also known as Elephants Never Forget (in the United Kingdom) and It's Spring Again
Where have I seen you before?