Tit for Tat (1935) starring Stan Laurel, Oliver Hardy, Charley Hall, Mae Busch
Tit for Tat is a very funny Laurel and Hardy film, that begins with Oliver Hardy opening his new hardware store.  A local police officer stops by to congratulate him, and Ollie explains that his partner, Stan Laurel, is recovering from a nervous breakdown — only to have Stan come up from downstairs in an street elevator, lifting the poor police officer into the air.  Oliver is profusely apologetic, and after the officer leaves, they go next door to introduce themselves to their neighbors at Hall's Grocery.  As they go out, Stan puts up a small sign stating that they will be back in a few minutes"€"and no sooner do they leave than a customer comes in.  It's once they go next door that the major conflict of the short film is revealed.
The proprietors of Hall's Grocery are none other than Charlie Hall & Mrs. Hall (Mae Busch), who are continuing in their roles from Them Thar Hills — which Charlie Hall hasn't forgotten, and isn't about to forgive.  Despite Oliver's attempts at patching things up, they are thrown out of the store"€"and as they return to their own store, a strange man walks out with a piece of their merchandise.  Shortly afterward, as Oliver Hardy is up on a ladder outside the store putting electric bulbs in their sign.  Then Stan Laurel uses the elevator again, lifting Oliver up and over the sign, landing on the ledge outside the Halls' apartment on the second floor.  Oliver innocently enough goes into the apartment in order to get down to street level, but Charlie Hall is upset that Oliver's coming down the stairs from his wife's bedroom — and the feud is on!
From this point on, Tit for Tat becomes an escalating series of mini-battles between Laurel & Hardy and Charlie Hall — and is honestly one of the funniest things ever filmed.  The battle grows step by step, and is frankly hilarious.  There's also a subplot that builds slowly but surely, with that "customer" helping himself to an ever-growing amount of Laurel and Hardy's merchandise.  It's laugh out loud funny, and highly recommended – I rate it a rare 5 clowns out of 5.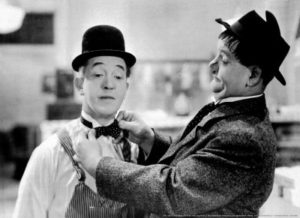 Funny movie quotes from Tit for Tat starring Laurel and Hardy
Oliver (Oliver Hardy): I remember you!
Grocer (Charley Hall): And I remember you too. Now get out of my store and stay out!
Oliver (Oliver Hardy): Oh, don't be like that. Let bygones be bygones. Let's help each other. You have a business, and we have a business. We'll send people to your store, and you send people to our store. What do you say?
Grocer (Charley Hall): You mind your business and I'll mind my business. Now get out before I throw you out!
---
Oliver (Oliver Hardy): My reputation: It has been ruthlessly dragged through the mud and mire. Never let it be said that a Hardy's spotless reputation to be so maliciously tread upon.
Stanley (Stan Laurel): You're right, Ollie; he who filters your good name steals trash.
---
Oliver (Oliver Hardy): You wanna get us arrested before the customers arrive?
Stanley (Stan Laurel): What time will they be here?
Oliver (Oliver Hardy): Well they'll be here about… "what time will they be here?" Why, customers come at any time!
---
[Oliver is on the windowsill on the second story of a store]
Stanley (Stan Laurel): What are you doing up there?
Oliver (Oliver Hardy): I'm waiting for a streetcar.
Stanley (Stan Laurel): Where are you going?
---
Oliver (Oliver Hardy): Tit for tat.
Stanley (Stan Laurel): What?
Oliver (Oliver Hardy): Tit for tat.
[Stan tips his hat]
Oliver (Oliver Hardy): What's that for?
Stanley (Stan Laurel): I thought you said, "Tip me hat".