Pardon Us (1931) starring Stan Laurel and Oliver Hardy – the first Laurel and Hardy feature length movie
Pardon Us is Laurel and Hardy's first feature length film. Sent in the middle of Prohibition in the United States, the movie begins with a funny scene where Stan (Stan Laurel) and Ollie (Oliver Hardy) are crossing the street, and having a car zoom by behind them, almost hitting them; as they turn around to express their anger, a car goes the other way, again almost hitting them. Finally crossing the street safely, Laurel and Hardy begin shopping for the various items that they need to make their own beer – which was legal during Prohibition. What wasn't legal, however, was to sell any to somebody else – which is exactly what Ollie and Stan are planning to do. Stan, not being a criminal mastermind, makes the mistake of trying to sell a bottle of beer to a policeman, and the boys are off to prison.
In prison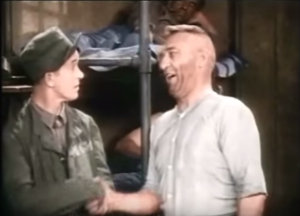 Once in prison, Laurel and Hardy have their prison photographs taken ("If they turn out good, can I have one?"), take a bath (where Stan absent-mindedly leaves a cake of soap on the floor for Oliver to slip on and fall back into the tub — only to throw a water-soaked towel at Stan in retaliation, but hit a prison guard instead), and meet the prison warden. At first, the warden seems firm but kind, until he misinterprets the sound that Stan's loose tooth makes as giving him a "raspberry" – which infuriates the warden so much that he has them put in cell 13, with "The Tiger," the meanest inmate in the prison.
School days
The Tiger (played by Walter Long) also misinterprets Stan's "raspberry" sound, and respects Stan as the only person in the prison who's been willing to stand up to the Tiger. Shortly afterward, Stan, Ollie, the Tiger and the other inmates all attend mandatory prison class led by long-suffering Laurel and Hardy foil, James Finlayson. It's a very funny scene, with Stan and Ollie driving the teacher to the point of distraction. It ends with Laurel and Hardy being put into solitary confinement. "How long do we have to stay here?" "Two months." "That's a month apiece." No sooner are Stan and Ollie released from solitary when the Tiger decides to try and break out of prison, and take "his pal" Stan, Oliver and several other prisoners. The warden sends his bloodhounds after the escapees, and soon all are recaptured – except for Stan and Ollie.
Hiding in plain sight
It turns out that Stan and Ollie have disguised themselves with grease and are blending in with a group of black farmers picking cotton. Some people may take offense at the sight of Laurel and Hardy in blackface, but they are not mocking anyone. They are merely hiding in plain sight, with their pet dogs – the warden's bloodhounds. Oliver enjoys the simple life on the farm, and one evening after a day of working in the fields he sings a soulful rendition of Lazy Moon to which Stan dances. Speaking of the Warden, he and his daughter are driving by the farm when their car breaks down. She sees Stan and Ollie, and not recognizing them in their disguises, asks them to help fix the car.
Frightened, but afraid of drawing attention to themselves, they try to fix the car. And after a shocking encounter with the car engine, Oliver climbs under the car… While one of the dogs comes up to him and starts licking his face, wiping away part of his disguise. The audience thinks that this is how the Warden will see through their disguises – but they're wrong. Stan spreads more grease around Oliver's face … And it's not until the Warden is about to drive away that he hears Stan's raspberry tooth again. The boys are soon taken back into custody.
Back in prison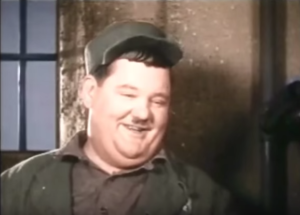 Once back in prison, one of the funniest scenes in the movie occurs, as Stan is sent to the prison dentist to have that loose tooth pulled. Oliver goes along for moral support, only to have the dentist pull his tooth by mistake! Stan is enjoying the scene until the dentist rectifies his mistake. And pulls one of Stan's teeth as well – the wrong one. Soon, the Tiger is again causing trouble and starts a prison riot. Which Stan and Oliver inadvertently stop, and the warden gratefully rewards Laurel and Hardy with a pardon.
There's a lot of funny verbal humor – be sure to check out funny movie quotes from Pardon Us as well.
Trivia for Pardon Us – a Laurel and Hardy movie
Four foreign language versions were also shot: Sous les verrous (1931) (French), Hinter Schloss und Riegel (1931) (German), Muraglie (1931) (Italian) and De Bote en Bote" (Spanish). Stan Laurel and Oliver Hardy spoke their lines phonetically, and many supporting roles were recast, including Boris Karloff playing "The Tiger" in the French version.
Several scenes were shot but deleted from the final theatrical print, which ran 56 minutes. The first ending showed the boys in gray-bearded old age reminiscing about their misadventures.
Cameo: Hal Roach marching in front of Oliver Hardy after his recapture.
Director Cameo: James Parrott marching next to Oliver Hardy after his recapture.
Stan Laurel and Oliver Hardy's first feature-length film. Producer Hal Roach had wanted to use some of the sets left over from MGM's big-budget prison picture The Big House (1930) to do a prison-movie spoof, but discovered that it would be too expensive to make as a short subject.