Biography of Mae Busch (18 June 1891 – 20 April 1946)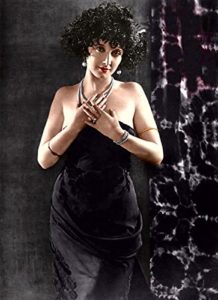 Mae Busch was an Australian-born film actress who worked in both silent and sound films in early Hollywood. During her career, Mae played Erich Von Stroheim's mistress, Lon Chaney's girlfriend, Charley Chase's sister, James Finlayson's ex-wife and Oliver Hardy's wife. Born in Melbourne, Australia in 1891, her parents were both in the theater and when she was 9 years old the family moved to the United States. Mae's home was a convent in New Jersey until she was 21 when in 1912 she left to move back to New York with her parents. She soon tried her hand at acting and in the same year appeared in her first film, The Agitator (1912).
Mabel Normand
One of her co-workers in New York, a young and not-yet-famous Mabel Normand, was heading to California to work with Mack Sennett and Keystone, so Mae went along.  She first appeared in films in The Agitator and The Water Nymph, both released in 1912. In 1915 she began working at Keystone Studios, where she appeared in comedy two-reelers. Her dalliance with studio chief Mack Sennett famously ended his engagement to actress Mabel Normand when Mabel Normand allegedly walked in on the pair. According to some accounts of the incident, Mae Busch inflicted a serious head injury on Mabel Normand by striking her with a vase (she was known for pinpoint throwing accuracy, which she put to good use in her slapstick comedies).
The Versatile Vamp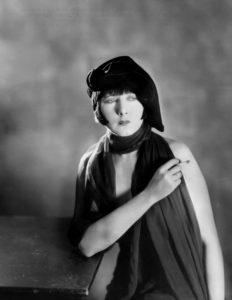 At the height of her film career, Mae Busch was known as the versatile vamp. She starred in such feature films as The Devil's Pass Key (1920) and Foolish Wives (1923), both directed by Erich von Stroheim, and in The Unholy Three (1925), with Lon Chaney. Her career declined abruptly in 1926, when she walked out on her contract at Metro–Goldwyn–Mayer and suffered a nervous breakdown. Afterwards, she found herself working for less prestigious studios such as Gotham and Tiffany, and she was relegated mostly to supporting roles.
In 1927, she was offered a leading role in a Hal Roach two-reeler, Love 'em and Weep, which began her long association with Laurel and Hardy. She appeared in thirteen of their comedies, the last being The Bohemian Girl, released in 1936. Her film roles after 1936 were often uncredited. Overall, she had roles in approximately one hundred and thirty motion pictures between 1912 and 1946.
Personal life and death of Mae Busch
Mae Busch married three times: to actor Francis McDonald from 1915–1922; to John Earl Cassell from 1926–29; and to civil engineer Thomas C. Tate from 1936 until her death.
Mae Busch died in 1946, age 54, at a San Fernando Valley sanitarium where she had been ill for five months from cancer. Her grave is located at Chapel of the Pines Crematory. For her contribution to the motion picture industry, Mae Busch has a star on the Hollywood Walk of Fame located at 7021 Hollywood Blvd.
Trivia about Mae Busch
Known as "The Versatile Vamp" during the Silent era.
Her ashes weren't claimed until the 1970s by members of the "Way Out West Tent."
Her star number at the Hollywood Walk of Fame is 7047.
Best remembered for her work in various Laurel & Hardy comedies, especially when playing Oliver Hardy's shrewish wife.
Was valued by early directors for her expert skill at "crockery throwing."
Several years after her death she would gain extra fame when Jackie Gleason frequently referred to her as "The ever-popular Mae Busch".
Aunt of Brenda Scott.
Financially supported her father Frederick Busch until his death.
In the 1920s, she lived in Hollywood at the Hillview Apartments at what is now 6533 Hollywood Boulevard. The building survives and has been restored but is not available to the public.
Personal Quotes from Mae Busch
"What became of my money? Well, I was not used to wealth when the studios began dumping it into my lap. The dollars slipped through my fingers like sand and went to pay for automobiles, houses and one great item clothing."
Filmography of Mae Busch
1940's
Ladies' Man (1947) [Actress …. Woman in the Automat] (uncredited)
Cross My Heart (1946) [Actress …. Juror] (uncredited)
The Bride Wore Boots (1946) [Actress …. Woman] (uncredited)
The Blue Dahlia (1946) [Actress …. Jenny – Maid] (uncredited)
The Stork Club (1945) [Actress …. Vera] (uncredited)
Masquerade in Mexico (1945) [Actress …. Party Guest] (uncredited)
The Mad Monster (1942) [Actress …. Susan]
Hello, Annapolis (1942) [Actress …. Miss Jenkins]
French Fried Patootie (1941) [Actress]
Ziegfeld Girl (1941) [Actress …. Jenny – Wardrobe Woman]
Women Without Names (1940) [Actress …. Rose]
1930's
Fangs of the Wild (1939) [Actress …. Fur buyer]
Nancy Drew—Detective (1938) [Actress …. Miss Tyson, the Nurse]
Marie Antoinette (1938) [Actress …. Mme. La Motte] (uncredited)
Prison Farm (1938) [Actress …. Trixie]
Scandal Street (1938) [Actress… Gwen] (uncredited)
The Big Broadcast of 1938 (1938) [Actress… Chaperone] (uncredited)
The Buccaneer (1938) [Actress… Bit Role] (uncredited)
Daughter of Shanghai (1937) [Actress… Lil] (uncredited)
The Accusing Finger (1936) [Actress… Woman on Bus] (uncredited)
Easy to Take (1936) [Actress… Relative] (uncredited)
The Amazing Exploits of the Clutching Hand (1936/I) [Actress… Mrs. Paul Gironda]
aka "The Clutching Hand" USA (alternative title)
The Bohemian Girl (1936) [Actress… Mrs. Hardy]
The Affair of Susan (1935) [Actress… Mrs. Hogan] (uncredited)
The Fixer Uppers (1935) [Actress… Madame Pierre Gustave]
Tit for Tat (1935) [Actress… Grocer's Wife] [Soundtrack] (The Old Spinning Wheel)
The Live Ghost (1934) [Actress… Maisie the Vamp, Blonde Floozy]
Them Thar Hills (1934) [Actress… Mrs. Hall]
Going Bye-Bye! (1934) [Actress …. Butch's girlfriend]
Picture Brides (1934) [Actress …. Gwen, British Bride]
I Like It That Way (1934) [Actress …. Elsie]
The Road to Ruin (1934) [Actress …. Mrs. Monroe] (uncredited)
Beloved (1934/I) [Actress …. Marie]
Oliver the Eighth (1934) [Actress …. Widow]
Sons of the Desert (1933) [Actress …. Mrs. Lottie Hardy]
Dance, Girl, Dance (1933) [Actress …. Lou Kendall]
aka "Male and Female" USA (reissue title)
Secrets of Hollywood (1933) [Actress …. Veteran Actress]
Lilly Turner (1933) [Actress …. Hazel]
Cheating Blondes (1933) [Actress… Mrs. Jennie Carter]
aka "Girls in Trouble" USA (reissue title)
Out All Night (1933) [Actress]
Blondie Johnson (1933) [Actress …. Mae]
Sucker Money (1933) [Actress … Mame]
The Racing Strain (1932) [Actress …. Tia Juana Lil]
Women Won't Tell (1932) [Actress …. Mrs. Howard]
aka "Cross Currents" USA (TV title)
Their First Mistake (1932) [Actress… Mrs. Arabella Hardy]
Scarlet Dawn (1932) [Actress …. French Wedding Witness] (uncredited)
The Heart Punch (1932) [Actress …. Goldie]
Doctor X (1932) [Actress …. Cathouse Madame]
The Purchase Price (1932) [Actress …. Queenie – Girl on Train] (uncredited)
The Man Called Back (1932) [Actress …. Rosie]
High Hats and Low Brows (1932) [Actress …. Stale Annie]
The Rider of Death Valley (1932) [Actress …. Tillie]
Without Honor (1932) [Actress …. Mary Ryan
aka "Without Honors" USA (review title)
Zwei Ritter ohne Furcht und Tadel (1932) [Actress …. 1 Short]
Slow Poison (1931) [Actress]
Wicked (1931) [Actress …. Arlene]
Come Clean (1931) [Actress …. Kate]
Fly My Kite (1931) [Actress …. Dan's new wife]
Defenders of the Law (1931) [Actress …. Mae Ward – Undercover Policewoman]
Chickens Come Home (1931) [Actress …. Ollie's Old Time Flame] (uncredited)
Young Desire (1930) [Actress …. May]
1920's
A Man's Man (1929) [Actress …. Violet]
Unaccustomed As We Are (1929) [Actress …. Mrs. Hardy]
Alibi (1929) [Actress …. Daisy Thomas]
West of Zanzibar (1928) [Actress …. Bit Role] (uncredited)
Sisters of Eve (1928) [Actress]
While the City Sleeps (1928) [Actress …. Bessie]
Black Butterflies (1928) [Actress …. Kitty Perkins]
Fazil (1928) [Actress …. Helen Dubreuze]
San Francisco Nights (1928) [Actress …. Flo]
The Bride of the Colorado (1928) [Actress] (uncredited)
aka "Bride of the Night" USA (alternative title)
Love 'Em and Weep (1927) [Actress …. Old flame]
The Beauty Shoppers (1927) [Actress …. Mabel Hines]
Perch of the Devil (1927) [Actress …. Ida Hook]
Husband Hunters (1927) [Actress …. Marie Devere]
Tongues of Scandal (1927) [Actress …. Helen Hanby]
The Truthful Sex (1926) [Actress …. Sally Carey Mapes]
Fools of Fashion (1926) [Actress …. Enid Alden]
The Nutcracker (1926) [Actress …. Martha Slipaway]
aka "Come on Charlie" USA (alternative title)
The Miracle of Life (1926) [Actress …. Janet Howell]
Time, the Comedian (1925) [Actress …. Nora Dakon]
The Unholy Three (1925) [Actress …. Rosie O'Grady]
Flaming Love (1925) [Actress …. Sal Flood]
1925 Studio Tour (1925) [Actress …. Herself]
Camille of the Barbary Coast (1925) [Actress …. Camille Balishaw]
aka "The Fallen Angel" USA (alternative title)
The Triflers (1924) [Actress …. Marjorie Stockton]
Married Flirts (1924) [Actress …. Jill Wetherell]
Broken Barriers (1924) [Actress …. Irene Kirby]
Bread (1924) [Actress …. Jeanette Sturgis]
A Woman Who Sinned (1924) [Actress …. Mrs. Hillburn]
Nellie, the Beautiful Cloak Model (1924) [Actress …. Polly Joy]
The Shooting of Dan McGrew (1924) [Actress …. Flo Dupont]
Name the Man (1924) [Actress …. Bessie Collister]
Souls for Sale (1923) [Actress …. Robina Teele]
The Christian (1923) [Actress …. Glory Quayle]
Only a Shop Girl (1922) [Actress …. Josie Jerome]
Brothers Under the Skin (1922) [Actress …. Flo Bulger]
Pardon My Nerve! (1922) [Actress …. Marie]
Foolish Wives (1922) [Actress …. Princess Vera Petchnikoff]
Her Own Money (1922) [Actress …. Flora Conroy]
A Parisian Scandal (1921) [Actress …. Mamselle Sari]
The Love Charm (1921) [Actress …. Hattie Nast]
Her Husband's Friend (1920) [Actress …. Clarice]
The Lone Ranger (1920) [Actress]
aka "Bud Kirkland's Buddy" USA (alternative title)
The Devil's Passkey (1920) [Actress …. La Belle Odera]
1910's
The Grim Game (1919) [Actress …. Ethel Delmead]
The Fair Barbarian (1917) [Actress …. Lucia]
The Folly of Fanchette (1917) [Actress …. Mrs. Rayburg]
A Bath House Blunder (1916) [Actress …. Swimming Instructor]
Wife and Auto Trouble (1916) [Actress …. A speedy stenographer]
Better Late Than Never (1916) [Actress]
Because He Loved Her (1916) [Actress]
The Worst of Friends (1916) [Actress]
aka "The Worst of Enemies" USA (reissue title)
Fatty and the Broadway Stars (1915) [Actress …. Actress]
The Best of Enemies (1915) [Actress]
A Favorite Fool (1915) [Actress …. Herself]
A Rascal's Wolfish Ways (1915) [Actress …. May – the Million Dollar Heiress]
aka "A Rascal's Foolish Way" USA (original title)
aka "A Rascal of Wolfish Ways" USA (alternative title)
Those Bitter Sweets (1915) [Actress]
Merely a Married Man (1915) [Actress]
Those College Girls (1915) [Actress]
For Better But Worse (1915) [Actress]
A Human Hound's Triumph (1915) [Actress]
The Rent Jumpers (1915) [Actress …. The Landlord's Daughter]
A One Night Stand (1915) [Actress]
Beating Hearts and Carpets (1915) [Actress]
Love in Armor (1915) [Actress …. The Girl]
Ambrose's Sour Grapes (1915) [Actress …. The Second Twin]
Willful Ambrose (1915) [Actress]
Ye Olden Grafter (1915) [Actress]
Mabel and Fatty's Married Life (1915) [Actress] (uncredited)
Settled at the Seaside (1915) [Actress]
The Water Nymph (1912) [Actress …. Undetermined Minor Role] (unconfirmed) (uncredited)