The Lost Films of Laurel and Hardy: The Complete Collection, Vol. 4 (1925)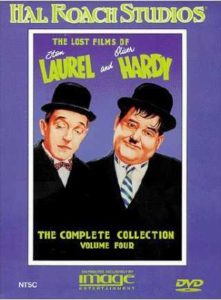 Another collection of Laurel and Hardy films from the Hal Roach Studio vaults, with both solo entries as well as the famous team of Laurel and Hardy.  Entries include:
Unaccustomed As We Are
Oliver invites his friend Stanley over for a nice home-cooked meal, but Mrs. Hardy (Mae Busch) wants nothing to do with it and walks out. Mrs. Kennedy (Thelma Todd), Oliver's beautiful neighbor from across the hall, volunteers to help out, but the boys' bumbling soon has her dress on fire. Her husband, a policeman (Edgar Kennedy), investigates the ruckus just as Oliver gets the now partially-unclad Mrs. Kennedy hidden in a trunk. Kennedy's boasting of how he handles his own womanizing backfires when his wife pops out of the trunk and blackens his eye. Meanwhile, Mrs. Hardy has returned and wonders what all the noise is coming from next door.
Stan and Ollie find work as debt collectors. Their first assignment is to collect a late payment on a radio set. The owner (Edgar Kennedy) refuses to pay the debt, so Stan and Ollie decide to reclaim the set. The owner will not let the duo in to reclaim the radio, and a fight breaks out as Stan & Ollie try to break in while the owner tries his hardest to keep them out.
Their Purple Moment
Stanley and Oliver sneak out for a night on the town, unaware that Mrs. Laurel has substituted her grocery coupons for Stanley's secret stash of mad money. Of course, this results in dire consequences when the boys run up a huge tab treating a couple of girls to dinner at a snazzy nightclub.
On the Wrong Trek
Charlie Chase relates his harrowing vacation to his co-workers, including his encounter with two confused, derby-hatted hitchhikers.  Cameo appearance by Laurel and Hardy as the hitchhikers.
Should Sailors Marry?
A Wrestler and his ex-Wife (Noah Young and Fay Holderness) try to con a recently-discharged Sailor (Clyde Cook) out of 4 years' pay. When they learn that he lost the money in a "shell game", they put him to work in the hazardous job of a High Steel Worker, and insure him against accident, then try to see that he has one.  A very minor role for Oliver Hardy as a doctor.
Product Description of The Lost Films of Laurel & Hardy: The Complete Collection, Vol. 4 (1925)
Mastered from the original 35mm material, this fourth volume of lost films from the great comedy team of Stan Laurel and Oliver Hardy includes: "They Go Boom!" (1929, 20 min.), "Their Purple Moment" (1928, 21 min., silent), "Bacon Grabbers" (1929, 20 min., silent), "Unaccustomed As We Are" (1929, 18 min.) in an alternate silent version of their first sound short, the Clyde Cook/Oliver Hardy short "Should Sailors Marry?" (1925, 22 min., silent), plus the Charley Chase short "On the Wrong Trek" (1936, 19 min.) featuring a cameo by Laurel & Hardy.