Jitterbugs (1943) starring Stan Laurel and Oliver Hardy, Bob Bailey, Vivian Blaine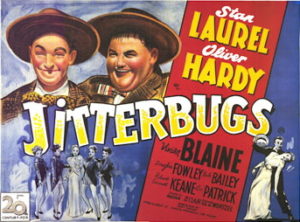 Jitterbugs is, hands down, one of the funniest Laurel and Hardy films that I've ever seen. The jitterbug ending, especially, is laugh out loud hilarious — literally. The movie begins with Stan Laurel and Oliver Hardy driving across the country as not-too-successful musicians, and are soon picked up by a likable con man (Bob Bailey) who uses the unwitting duo to sell his bogus "gas pill" (think free gasoline) at every stop — and soon have lots of dissatisfied people chasing them.
Along the way, the handsome, likable young con man falls in love with a pretty small-town girl (Vivian Blaine), whose mother has been swindled out of their home by real-estate swindlers Corcoran (Robert Emmett Keane) and Bennett (Douglas Fowley) — and since turnabout is fair play, the young con man decides to con the money back, in a funny scheme that has Oliver playing a southern gentleman, and Stan — in drag, despite his protests — as the gentleman's Aunt Sally, who has money to be swindled.
Of course, no battle plan survives first contact with the enemy, and soon the boys are captured by the con man's criminal friend Tony Queen (Noel Madison) and his gang … and escape, nearly despite their best efforts, due to those "gas pills" (not a cure for indigestion, as one of the criminals find out) and ends with a zany chase on an old-time showboat, and Stan and Ollie in the drink!
Jitterbugs is a funny Laurel and Hardy film, very funny, quick paced, and hard to improve — highly recommended.
Editorial review of Jitterbugs, courtesy of Amazon.com
If Jitterbugs is, as has often been claimed, the best of Laurel & Hardy's 20th Century-Fox films, it is because the studio was using the picture as a showcase for their newest singing discovery Vivian Blaine. Stan Laurel and Oliver Hardy play a couple of travelling 'zoot suit' musicians who innocently team up with likable con man Chester Wright (Bob Bailey). In the course of their travels, Chester and the boys meet small-town girl Susan Cowan (Blaine), whose mother has been victimized by real-estate swindlers Corcoran (Robert Emmett Keane) and Bennett (Douglas Fowley). Reasoning that it takes a crook to catch a crook, Chester masterminds a complicated 'sting' to recover Mrs. Cowan's money.
Chester's scheme requires Hardy to disguise himself as amorous Southern colonel Wattison Bixby, and obliges Laurel to don women's clothing as Susan's Aunt Emily. Alas, the boys aren't quite up to the rigors of the confidence racket, and as result they end up the prisoners of Bennett's partner, gangster Tony Queen (Noel Madison). In escaping their captors, Laurel and Hardy utilize Chester's phony 'gas pills', which when swallowed cause the bad guys to float to the ceiling! The film concludes with a wild runaway-showboat sequence, consisting largely of stock footage from the 1938 Fox musical Sally, Irene and Mary. Worth the admission price in itself is the romantic rendezvous between Oliver Hardy and phony Southern belle Lee Patrick.
Funny movie quotes from Jitterbugs
Oliver: Well, we're out of gas.
Stan: That's all right — we've got our gas rationing card.
Oliver: Well, here's another nice mess you've gotten me into!
Oliver: [Stan's supposed to be pushing the car, but sits next to Oliver] Who's pushing this thing?
Stan: Well, I forgot to tell ya, I borrowed a mule when we were stopped.
Oliver: Well, I guess a mule's as good as a donkey any day.
Oliver: We're the only two man band in the world! Equal to Harry Miller, Tommy Dorsey and Spike Jones!
Oliver: Come on, hep cats, we're going to spread a load of jam!
Chester Wright: We've got to go back!
Stan and Ollie: Go back? Why?
Chester Wright: Her mother was gypped out of ten thousand dollars!
Oliver: [whistles] That's a lot of dough!
Stan: That's a lot of money, too.
Oliver: Stanley, do you believe in love at first sight?
Stan: It certainly saves a lot of time!
Chester Wright: What good would that do? Even if they catch them, they'll just use the money to defend themselves.
Susan Cowan: Even if you win, you lose.
Stanley: They could name their first baby Stanley.
Oliver: What's wrong with Oliver?
Stanley: Stanley.
Oliver: Oliver!
Stanley: Stanley's a nice name. They could have twins.
Oliver: We'll suggest that to them.
Stan: My name is Potts — P-O-otts, Potts.
Oliver: [toasting] To the fairest flower in the garden of Southern womanhood!
Oliver: Mary Lou, Absinthe makes the heart grow fonder!
Oliver: Are you trying to bribe an officer of the law?
Stan: Not me! I'm not going to be a dame!
Stan: [in drag] Don't mind the colonel, he grows on you.
Henry Corcoran: He won't grow on me!
Stan: You know, Ollie, I was just thinking.
Oliver: About what?
Stan: Nothing; I was just thinking.
Oliver: We're practically wrapped in concrete now!
Stan: At the bottom of the Mississippi.
Stan [in drag]: I'm one of those "nip and tuck" drinkers.
Henry Corcoran: What's that, Miss Emily?
Stan: One nip and you can tuck me away for the night!
Gangster: Take these two Halloween masks down to the boiler room until I figure out what to do with them!
Oliver: You're going to get a nasty letter from our lawyers for that Halloween crack!
Oliver: [covered in coal] Well, here's another nice mess you've gotten me into!
Guardian gangster: [having eaten one of the "gas" pills] What're in those pills?
Stan: We tried to warn you!
Oliver: [closing lines] We're going down for the third time!
Stan: I'm sorry, Ollie!
Trivia for Jitterbugs
Oliver Hardy, who uncharacteristically has solo scenes without partner Stan Laurel, rated this film as one of his five favorites.
Wartime rationing had an impact on the duo's films. In this case, shoes were rationed to three pairs a year, and the dancers had to rehearse in bare feet. Also, because so many young men had joined the armed forces, the original plan to have 150 jitterbug teams in the jitterbug scene had to be reduced, and the 50 couples planned were reduced to 30. Not only that, but the "zoot suits" the duo wore needed a special dispensation because it was at the time considered a profligate use of material.
Cy Slocum, who played a bouncer in this movie, was Oliver Hardy's stand-in and stunt double in the Laurel and Hardy movies of the 1930s.
According to Stan Laurel and Oliver Hardy biographer Scott McGillivray, the scene where Laurel tears up his gasoline ration cards elicited groans from wartime audiences who were coping with gas shortages.