The Dancing Masters, starring Stan Laurel, Oliver Hardy, Trudy Marshall, Robert Bailey, Margaret Dumont
Editorial review of The Dancing Masters courtesy of Amazon.com
This Laurel and Hardy vehicle casts Stan and Ollie as the proprietors of the "Arthur Hurry" dance studio. Despite a rather sizeable student body, the boys would starve to death were it not for their only paying customer, socialite Trudy Harlan (Trudy Marshall). Trudy is in love with Grant Lawrence (Robert Bailey), an aspiring inventor who needs financial backing for his revolutionary new flame thrower.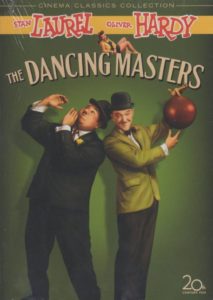 Laurel and Hardy undertake several moneymaking schemes to help Grant, most of these coming a-cropper. Finally, Ollie remembers an accident-insurance policy taken out on Stan. He tries to arrange an accident so that the boys can collect a huge fee, but this scheme culminates in a wild bus ride, resulting in Ollie breaking his own leg. …
Funny movie quotes from The Dancing Masters
Trudy Harlan (Trudy Marshall): You boys believe that Grant has a great future as an inventor, don't you?
Oliver Hardy: Well, I believe that Grant'll be an inventor of the first rank.
Stan Laurel: What's rank?
Oliver Hardy: You are! SHUT UP!
---
Stan Laurel: The harder they fall, the bigger I am!
---
Stan Laurel: [taking a book out of the bookcase] "Boswell's Life of Johnson." Gee, I bet that's interesting.
Oliver Hardy: Yeah, I remember that Jess Willard knocked him out. It sure was a hot day!
Stan Laurel: Gee, I'll have to read that.
---
Stan Laurel: I don't mind starvin' again.
Oliver Hardy: It's all right with me.
Stan Laurel: You know you can't keep an egg in two baskets. That's silly… unless you want to scramble them. I wouldn't be that stupid, you know. I knew a fella once that he had some money in the bank, and he wouldn't draw it out. And, you know what? He lost his job, and still he wouldn't draw it out. Then he starved to death – that killed him. And then he died, and after he was dead. A friend of his got all his money, and he drewed it out of the bank. and I could live happily ever after. Yes, sir!
---
Woman at dancing school: [referring to Stan's ballet dancing] Isn't he light?
Mother at Dancing School: [with disdain] In the head!
---
Oliver Hardy: [with disgust] You make me sick!
Stan Laurel: Well, we've all got to live and learn, you know.
Oliver Hardy: Yeah, but you just live!
---
Trivia for The Dancing Masters
A young Robert Mitchum has an uncredited bit part as a fraudulent insurance salesman.
Although it was trimmed down from 75 minutes to 63, this film was Fox's third biggest grosser of the year and #20 on the list of the 50 top moneymakers of 1943.
The revolving bar set at Matt Briggs' house was left over from the W.C. Fields temperance scene from 1942's Tales of Manhattan (1942). As the sequence was eventually cut, Fox was able to utilize the standing set for this film.