Margaret Dumont biography (October 20, 1882 – March 6, 1965)
Margaret Dumont appeared with many comedians, including Jack Benny, Danny Kaye, Red Skelton, and W. C. Fields – but she is best known for her recurring role as the stodgy dowager straight man to  Groucho Marx in many of the Marx Brothers' most popular films.
Margaret Dumont was born on October 20, 1882, as Daisy Juliette Baker, and as a girl she sang on the stage in both America and Europe under the name of Daisy Dumont.   A trained singer, she moved onto the stage as an actress in 1907, but after her marriage to John Muller Jr. in 1910, she retired from the stage to devote herself to her wealthy husband.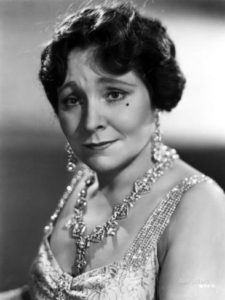 She returned to the stage only after the death of her husband, where in 1925 she was cast in a very popular Broadway production titled  The Cocoanuts, appearing alongside four brothers named Julius, Leonard, Adolph and Milton – who would soon be better known as  Groucho,  Chico,  Harpo  and Gummo, the Marx Brothers.
In addition to their zany antics and madcap comedy, the Marx Brothers were well known for their improvisation and departing from the script on a whim – making it difficult for Margaret Dumont to deliver her lines properly.   Even so, she enjoyed working with the Marx Brothers – for the most part.
After several years of performing  The Cocoanuts,  the Marx Brothers starred in another Broadway hit,  Animal Crackers – €and again,  they used Margaret Dumont to play straight man to Groucho.   As the era of sound films began, she reprised her roles for the movie versions of  The Cocoanuts and  Animal Crackers as well in 1929 and 1930.
Margaret Dumont went on to co-star with the Marx Brothers in many (not all) of their films, including  Duck Soup  (1933),  A Night at the Opera  (1935),  A Day at the Races  (1937),  At the Circus  (1939), and  The Big Store
 (1941).   As much as she enjoyed the fame that her appearances with the Marx Brothers, she said "It was fun while it lasted. I wouldn't take $1,000,000 for the experience and I wouldn't give a cent to do it again. Making pictures with the Marx Brothers is really the strenuous life."
In addition, she appeared in several other movies in this time frame, including  Anything Goes with Bing Crosby,  The Women
 with Joan Crawford and Rosalind Russel, and the classic W. C. Fields movie  Never Give a Sucker an Even Break.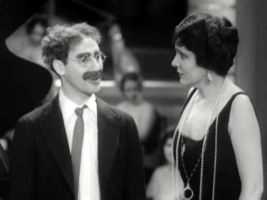 Margaret Dumont continued making classic comedies with the leading comedians of the day, such as  The Dancing Masters  (1943) with  Laurel and Hardy,  Up in Arms  (1944) with  Danny Kaye,  Bathing Beauty  (1944) with  Red Skelton,  The Horn Blows at Midnight  (1945) with Jack Benny, and  Little Giant  (1946) with  Abbott and Costello.   However, most of these were small parts, with Margaret playing the same stereotypical role that she had made popular with Groucho Marx – €that of the staid, rich dowager.
Margaret Dumont's film appearances slowed down, but she continued her career through the 1940's, 1950's, and 1960's.   In 1964, the year of her death, she appeared in a film with Shirley McLaine titled, ironically enough  What a Way to Go.   Only days before her death, she appeared on the television show  The Hollywood Palace with guest-host  Groucho Marx.   She died on March 6, 1965, in Hollywood, California of a heart attack.
Trivia about Margaret Dumont
Last appearance of any kind was on the TV show "The Hollywood Palace" (1964) in 1965, reprising her role as Groucho Marx's straight woman. She died just days later.
She was bald and wore wigs for several years on and off camera.
Her screen persona was that of a stolid, wealthy society matron, which is exactly what she was: her husband, John Moller, was a millionaire industrialist, and she often commuted to filming locations from her mansions in Palm Springs, California, and Paris, France.
Started on stage in 1907
She was the god-daughter of author Joel Chandler Harris.
Biography in: "Who's Who in Comedy: Comedians, Comics, and Clowns from Vaudeville to Today's Stand-Ups" by Ronald L. Smith. Pg. 143-144. New York: Facts on File, 1992.
Groucho Marx called her "practically the fifth Marx Brother".
Offstage, she usually called Groucho Marx "Julie", which is short for Julius, Groucho's given name.
Some have argued that her image of the refined lady who did not understand the Marx Brothers' humor was an artificial one since she had a long career being a comedic foil in comedy stage productions years before her more famous work.
Films of Margaret Dumont
1917 A Tale of Two Cities
1929  The Cocoanuts
1930  Animal Crackers
1931 The Girl Habit
1933  Duck Soup
1934 Fifteen Wives (UK version: The Man With the Electric Voice)
1934 Kentucky Kernels (UK version: Triple Trouble)
1934 Gridiron Flash (UK version: Luck of the Game)
1935  A Night at the Opera
1935 Orchids to You
1935 Rendezvous
1936 Song and Dance Man
1936 Anything Goes
1937  A Day at the Races
1937 Life of the Party
1937 Youth on Parole
1937 High Flyers
1937 Wise Girl
1938 Dramatic School
1939 The Women
1939  At the Circus
1941 The Big Store
1941 For Beauty's Sake
1941 Never Give a Sucker an Even Break (UK version: What a Man)
1942 Born to Sing
1942 Sing Your Worries Away
1942 About Pace
1942 Rhythm Parade
1942 Dancing Masters
1944 Up in Arms
1944 Seven Days Ashore
1944 Bathing Beauty
1945 The Horn Blows at Midnight
1945 Sunset in Eldorado
1945 Diamond Horseshoe
1946  Little Giant  (UK version: On the Carpet)
1946 Susie Steps Out
1952 Three for Bedroom C
1953 Stop, You're Killing Me
1956 Shake, Rattle and Rock
1959 Auntie Mame (uncredited)
1962 Zotz!
1964 What a Way to Go!