Biography of Danny Kaye (1913-1987), famous movie clown
Danny Kaye (born David Daniel Kaminsky; January 18, 1913 – March 3, 1987) was a celebrated American actor, singer, dancer, and comedian. His best-known performances featured physical comedy, idiosyncratic pantomimes, and rapid-fire nonsense songs.
Danny Kaye starred in 17 movies, notably The Kid from Brooklyn(1946), The Secret Life of Walter Mitty (1947), The Inspector General (1949), Hans Christian Andersen (1952), and — perhaps his most accomplished performance — The Court Jester (1956). His films were extremely popular, especially his bravura performances of patter songs and children's favorites such as The Inch Worm and The Ugly Duckling. He was the first ambassador-at-large of UNICEF and received the French Legion of Honor in 1986 for his many years of work with the organization.
Early years of Danny Kaye
David Daniel Kaminsky was born to Ukrainian Jewish immigrants in Brooklyn. Jacob and Clara Nemerovsky Kaminsky and their two sons, Larry and Mac, left Ekaterinoslav two years before his birth; he was the only one of their sons born in the United States. He spent his early youth attending Public School 149 in East New York, Brooklyn, where he began entertaining his young classmates with songs and jokes, before moving to Thomas Jefferson High School, but he never graduated. His mother died when he was in his early teens. Clara enjoyed the impressions and humor of her youngest son and always had words of encouragement for them; her death was a great loss for young Danny.
Not long after his mother's death, Danny and his best friend ran away to Florida. Danny sang while his friend Louis played the guitar; the pair eked out a living like this for a while. When Danny did return to New York, his father did not pressure him to return to school or to get a job, giving his son the chance to mature and discover his own abilities.Danny said he had wanted to become a surgeon as a young boy, but there was no chance of the family being able to afford a medical school education for him. He held a succession of jobs after leaving school: a soda jerk, insurance investigator, office clerk. Most of them ended with him being fired. He lost the insurance job when he made an error that cost the insurance company $40,000. The dentist who had hired him to look after his office during his lunch hour did the same when he found Danny using his drill to create designs in the office woodwork. He learned his trade in his teenage years in the Catskills as a tummler in the Borscht Belt.
Danny Kaye's first break came in 1933 when he was asked to become one of the ""Three Terpsichoreans" a vaudeville dance act. He opened with them in Utica, New York using the name Danny Kaye for the first time. The act toured the United States, then signed on to perform in the Orient with the show La Vie Paree. The troupe left for six months in the Far East on February 8, 1934. While the group was in Osaka, Japan, a hurricane hit the city. The hotel Kaye and his colleagues stayed in suffered heavy damage; a piece of the hotel's cornice was hurled into Kaye's room by the strong wind, nearly killing him. By performance time that evening, the city was still in the grip of the storm. There was no power and the audience had become understandably restless and nervous. To keep everyone calm, Kaye went on stage, his face lit by a flashlight, and sang every song he could recall as loudly as he was able. The experience of trying to entertain audiences who did not speak English is what brought him to the pantomimes, gestures, songs and facial expressions which eventually made him famous. Sometimes it was necessary just to try to get a meal. Kaye's daughter, Dena, tells a story her father related about being at a restaurant in China and trying to order chicken. Kaye flapped his arms and clucked, giving the waiter his best imitation of a chicken. The waiter nodded his understanding, bringing Kaye two eggs. His interest in cooking began on the tour.
When he returned to the United States, jobs were in short supply; Danny Kaye struggled for bookings. One of the jobs was working in a burlesque revue with fan dancer Sally Rand. After the dancer dropped one of her fans while trying to chase away a fly, Kaye was hired to be in charge of the fans so they were always held in front of her.
Career of Danny Kaye
Danny Kaye made his film debut in a 1935 comedy short titled Moon Over Manhattan. In 1937 he signed with New York–based Educational Pictures for a series of two-reel comedies. Kaye usually played a manic, dark-haired, fast-talking Russian in these low-budget shorts, opposite young hopefuls June Allyson or Imogene Coca. The Kaye series ended abruptly when the studio shut down permanently in 1938. He was still working in the Catskills at times in 1937, using the name Danny Kolbin. Kaye's next venture was a short-lived Broadway show, where Sylvia Fine was the pianist, lyricist and composer. The Straw Hat Revue opened on September 29, 1939 and closed after ten weeks, but it was long enough for critics to take notice of Danny Kaye's work in it. The glowing reviews brought an offer for both Kaye and his new bride, Sylvia, to work at La Martinique, an upscale New York City nightclub. Kaye performed with Sylvia as his accompanist. This is where playwright Moss Hart saw Danny in action, which led to his being cast in Hart's Lady in the Dark.
Danny Kaye scored a personal triumph in 1941, in the hit Broadway comedy Lady in the Dark. His show-stopping number was "Tchaikovsky", by Kurt Weill and Ira Gershwin, in which he sang the names of a whole string of Russian composers at breakneck speed, seemingly without taking a breath. By the next Broadway season, he was the star of his own show about a young man who is drafted called Let's Face It!.
His feature film debut was in producer Samuel Goldwyn's Technicolor 1944 comedy Up in Arms, a remake of Goldwyn's Eddie Cantor comedy Whoopee!(1930). Kaye's rubber face and fast patter were an instant hit, and rival producer Robert M. Savini cashed in almost immediately by compiling three of Kaye's old Educational Pictures shorts into a makeshift feature, The Birth of a Star (1945).
Kaye starred in a radio program of his own, The Danny Kaye Show, on CBS in 1945–1946. It had a stellar cast (including Eve Arden, Lionel Stander, and Big Band leader Harry James), and was scripted by radio notable Goodman Ace and respected playwright-director Abe Burrows. The radio program's popularity rose quickly. Before Danny Kaye had been on the air a year, he tied with Jimmy Durante for fifth place in the Radio Daily popularity poll. Kaye was asked to participate in a USO tour following the end of World War II. It meant he would be absent from his radio show for close to two months at the beginning of the season. Kaye's friends filled in for him, with a different guest host each week. Kaye was the first American actor to visit postwar Tokyo; it was his first time there after touring there some ten years before with the vaudeville troupe. When Danny Kaye asked to be released from his radio contract in mid 1946, he agreed not to accept another regular radio show for one year and also to limit his guest appearances on the radio programs of others. Many of the show's episodes survive today, and are notable for Kaye's opening "signature" patter.
"Git gat gittle, giddle-di-ap, giddle-de-tommy, riddle de biddle de roop, da-reep, fa-san, skeedle de woo-da, fiddle de wada, reep!"
Kaye was sufficiently popular that he inspired imitations:
The 1946 Warner Bros. cartoon Book Revue had a lengthy sequence with Daffy Duck impersonating Kaye singing "Carolina in the Morning" with the Russian accent that Kaye would affect from time to time.
Satirical songwriter Tom Lehrer's 1953 song "Lobachevsky" was based on a number that Kaye had done, about the Russian director Constantin Stanislavski, again with the affected Russian accent. Lehrer mentioned Danny Kaye in the opening monologue, citing him as an "idol since childbirth."
Superman creators, Jerry Siegel and Joe Shuster, also fashioned a short-lived superhero title, Funnyman, taking inspiration from Kaye's public persona.
Danny Kaye starred in several movies with actress Virginia Mayo in the 1940s, and is well known for his roles in films such as The Secret Life of Walter Mitty (1947), The Inspector General(1949), On the Riviera (1951) co-starring Gene Tierney, Knock on Wood (1954), White Christmas (1954, in a role originally intended for Fred Astaire, then Donald O'Connor), The Court Jester (1956), and Merry Andrew (1958). Danny Kaye starred in two pictures based on biographies, Hans Christian Andersen (1952) about the Danish story-teller, and The Five Pennies (1959) about jazz pioneer Red Nichols. His wife, writer/lyricist Sylvia Fine, wrote many of the witty, tongue-twisting songs Danny Kaye became famous for. She was also an associate producer. Some of Danny Kaye's films included the theme of doubles, two people who look identical (both played by Danny Kaye) being mistaken for each other, to comic effect.
While his wife wrote Danny Kaye's material, there was much of it that was unwritten, springing from the mind of Danny Kaye, often while he was performing. Kaye had one character he never shared with the public; Kaplan, the owner of an Akron, Ohio rubber company, came to life only for family and friends. His wife, Sylvia, described the Kaplan character:
"He doesn't have any first name. Even his wife calls him just Kaplan. He's an illiterate pompous character who advertises his philanthropies. Jack Benny or Dore Schary might say, "Kaplan, why do you hate unions so?" If Danny feels like doing Kaplan that night, he might be off on Kaplan for two hours."
When he appeared at the London Palladium music hall in 1948, he "roused the Royal family to shrieks of laughter and was the first of many performers who have turned English variety into an American preserve." Life magazine described his reception as "worshipful hysteria" and noted that the royal family, for the first time in history, left the royal box to see the show from the front row of the orchestra. He later related that he had no idea of the familial connections when the Marquess of Milford Haven introduced himself after one of the shows and said he would like his cousins to see Danny Kaye perform.Kaye also later stated that he never returned to the venue because there was no way to re-create the magic of that time. Danny Kaye had an invitation to return to London for a Royal Variety Performance in November of the same year. When the invitation arrived, Kaye was busy at work on The Inspector General. Warners stopped work on the film to allow their star to attend.
He hosted the 24th Academy Awards in 1952. The program was broadcast only on radio. Telecasts of the Oscar ceremony would come later. During the 1950s, Kaye visited Australia, where he played "Buttons" in a production of Cinderella in Sydney. In 1953, Kaye started his own production company, Dena Pictures, named for his daughter. Knock on Wood was the first film produced by his firm. The firm expanded into television in 1960 under the name Belmont Television.
Kaye entered the world of television in 1956 through the CBS show See It Now with Edward R. Murrow. The Secret Life of Danny Kaye combined his 50,000 mile, ten country tour as UNICEF ambassador with music and humor. His first solo effort was in 1960 with an hour-long special produced by Sylvia and sponsored by General Motors; there were similar specials in 1961 and 1962. He hosted his own variety hour on CBS television, The Danny Kaye Show, from 1963 to 1967, which won four Emmy awards and a Peabody award. During this period, beginning in 1964, he acted as television host to the annual CBS telecasts of MGM's The Wizard of Oz. Danny Kaye also did a stint as one of the What's My Line? Mystery Guests on the popular Sunday night CBS-TV quiz program. Danny Kaye later served as a guest panelist on that show. He also appeared on the NBC interview program Here's Hollywood.
In the 1970′s Danny Kaye tore a ligament in his leg during the run of the Richard Rodgers musical Two by Two, but went on with the show, appearing with his leg in a cast and cavorting on stage from a wheelchair. He had done much the same on his television show in 1964 when his right leg and foot were seriously burned from an at-home cooking accident. The camera shots were planned so television viewers did not see Kaye in his wheelchair.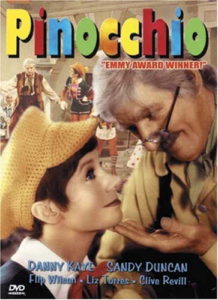 In 1976, he played the role of Mister Geppetto in a television musical adaptation of Pinocchio with Sandy Duncan in the title role. Kaye also portrayed Captain Hook opposite Mia Farrow in a musical version of Peter Pan featuring songs written by Anthony Newley and Leslie Bricusse. It was shown on NBC–TV in December 1976 as part of The Hallmark Hall Of Fame series. He guest-starred much later in his career in episodes of The Muppet Show, The Cosby Show and in the 1980s revival of The Twilight Zone.
In many of his movies, as well as on stage, Danny Kaye proved to be a very able actor, singer, dancer, and comedian. He showed quite a different and serious side as Ambassador for UNICEF and in his dramatic role in the memorable TV movie Skokie, in which he played a Holocaust survivor. Before his death in 1987, Kaye demonstrated his ability to conduct an orchestra during a comical, but technically sound, series of concerts organized for UNICEF fundraising. Danny Kaye received two Academy Awards: an honorary award in 1955, the Jean Hersholt Humanitarian Award and the Screen Actors Guild Annual Award in 1982.
Danny Kaye was enamored of music. While he often claimed an inability to read music, he was quite the conductor, and was said to have perfect pitch. Danny Kaye's ability with an orchestra was brought up by Dimitri Mitropoulos, who was then the conductor of the New York Philharmonic Orchestra. After Kaye's guest appearance, Mitropoulos remarked,
"Here is a man who is not musically trained, who cannot even read music, and he gets more out of my orchestra than I ever have."
Danny Kaye was often invited to conduct symphonies as charity fundraisers and was the conductor of the all-city marching band at the season opener of the Los Angeles Dodgers in 1984. Over the course of his career he raised over US$5,000,000 in support of musicians pension funds.
In 1980, Danny Kaye hosted and sang in the 25th Anniversary of Disneyland celebration, and hosted the opening celebration for Epcot in 1982 (EPCOT Center at the time), both of which were aired on prime-time American television.
Death of Danny Kaye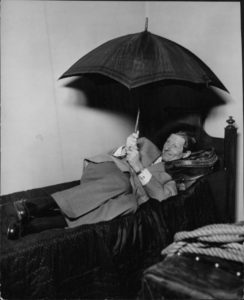 Danny Kaye died of a heart attack in March 1987, following a bout with hepatitis. Kaye had quadruple bypass heart surgery in February 1983; he contracted hepatitis from a blood transfusion he received at that time. He left a widow, Sylvia Fine, and a daughter, Dena. He is interred in the Kensico Cemetery in Valhalla, New York. His grave is adorned with a bench that contains friezes of a baseball and bat, an aircraft, a piano, a flower pot, musical notes, and a glove. Danny Kaye's name, birth and death dates are inscribed on the glove. The United Nations held a memorial tribute to him at their New York headquarters.
Personal Life of Danny Kaye
Danny Kaye and his wife, Sylvia, both grew up in Brooklyn, living only a few blocks apart, but they did not meet until they were both working on an off-Broadway show in 1939. Sylvia was an audition pianist at the time. Danny and Sylvia discovered that the dentist whose office he had been hired to watch was Sylvia's father, Samuel Fine. They were married on January 3, 1940. Kaye, working in Florida at the time, proposed on the telephone; the couple was married in Fort Lauderdale. Their daughter, Dena, was born on December 17, 1946.
Both Danny Kaye and his wife raised their daughter without any parental hopes or aspirations for her future. Kaye said in a 1954 interview, "Whatever she wants to be she will be without interference from her mother nor from me." When she was very young, Dena did not like seeing her father perform because she did not understand that people were supposed to laugh at what he did.
During World War II, the Federal Bureau of Investigation investigated rumors that Danny Kaye dodged the draft by manufacturing a medical condition to gain 4-F status and exemption from military service. FBI files show he was also under investigation for supposed links with Communist groups. The allegations were never substantiated, and he was never charged with any associated crime.
Danny Kaye and Cooking
In his later years he took to entertaining at home as chef – he had a special stove installed in his patio – and specialized in Chinese and Italian cooking. The specialized stove Danny Kaye used for his Chinese dishes was fitted with special metal rings for the burners to allow the heat from them to be highly concentrated.Danny Kaye needed to install a trough with circulating ice water so he could use the burners. Danny Kaye also taught Chinese cooking classes at a San Francisco Chinese restaurant in the 1970s. The theater and demonstration kitchen underneath the library at the Culinary Institute of America in Hyde Park, New York is named for him.
Danny referred to his kitchen as "Ying's Thing". While filming The Madwoman of Chaillotin France, he phoned home to ask his family if they would like to eat at "Ying's Thing" that evening; Kaye then flew home for dinner. Not all of his efforts in the kitchen turned out well. After flying to San Francisco for a recipe for sourdough bread, he came home and spent hours preparing loaves. When his daughter asked about the bread, Kaye tried showing her by hitting the bread on the kitchen table. His bread was hard enough to chip it. Kaye approached his kitchen work with enthusiasm, making his own sausages and other items needed for his cuisine. His work as a chef earned him the "Les Meilleurs Ouvriers de France" culinary award; Danny Kaye was the only non-professional to achieve this honor.
Danny Kaye and Flying
Like many in the film business, Danny was an aviation enthusiast. He became seriously interested in learning how to fly in 1959. An enthusiastic and accomplished golfer, Danny Kaye gave up golf in favor of flying. When Danny Kaye went for his first written pilot's exam, he brought a liverwurst sandwich in case he was there for hours. The first plane Danny Kaye owned was a Piper Aztec. Kaye got his first license as a private pilot of multi-engine aircraft, not getting certified for operating a single engine plane until six years later. He was an accomplished pilot, rated for airplanes ranging from single engine light aircraft to multi-engine jets. Kaye held a commercial pilot's license and had flown every type of aircraft except military planes. A vice-president of Learjet, Kaye owned and operated a Learjet 24. He supported many flying projects. In 1968, he was Honorary Chairman of the Las Vegas International Exposition of Flight, a major show that utilized most facets of the city's entertainment industry while presenting a major air show. The operational show chairman was well-known aviation figure, Lynn Garrison. Kaye flew his own plane to 65 cities in five days on a mission designed to help UNICEF.
Danny Kaye was very fond of the legendary arranger Vic Schoen. Schoen had arranged for him on White Christmas, The Court Jester, and albums and concerts with the Andrews Sisters. In the 1960s, Vic Schoen was working on a show in Las Vegas with Shirley Temple. He was injured in a car accident. When Danny Kaye heard about the accident, he immediately flew his own plane to McCarran Airport to pick up Schoen and bring him back to Los Angeles to guarantee the best medical attention.
Danny Kaye and Baseball
Danny Kaye was part-owner of baseball's Seattle Mariners along with his partner Lester Smith from 1977 to 1981. Prior to that, the lifelong fan of the Brooklyn/Los Angeles Dodgers recorded a song called "The D-O-D-G-E-R-S Song (Oh really? No, O'Malley!)", describing a fictitious encounter with the San Francisco Giants, which was a hit during the real-life pennant chase of 1962. That song is included on Baseball's Greatest Hits compact discs. A good friend of Leo Durocher, he would often travel with the team. In addition to being an owner, Danny Kaye had an encyclopedic knowledge of the game.
Danny Kaye and Medicine
He also had a longstanding interest in medicine and was permitted to observe surgery on several occasions. He was an honorary member of the American College of Surgeons and the American Academy of Pediatrics.
Danny Kaye and Charity
Throughout his life, Danny Kaye donated to various charities. Working alongside UNICEF's Halloween fundraiser founder, Ward Simon Kimball Jr., the actor educated the public on impoverished children in deplorable living conditions overseas and assisted in the distribution of donated goods and funds. His involvement with UNICEF came about in a very unusual way. Kaye was flying home from an appearance in London in 1949 when one of the plane's four engines lost its propeller and caught fire. The problem was initially thought to be serious enough that it might need to make an ocean landing; life jackets and life rafts were made ready. The plane was able to head back over 500 miles to make a landing in Shannon, Ireland. On the way back to Shannon, the head of the Children's Fund, Maurice Pate, had the seat next to Danny Kaye and spoke at length to him about the need for recognition for the Fund. Their discussion continued on the flight from Shannon to New York; it was the beginning of the actor's long association with UNICEF.
Honors, awards, tributes for Danny Kaye
Jean Hersholt Humanitarian Award (1981)
Asteroid 6546 Kaye
Danny Kaye has three stars on the Hollywood Walk of Fame for his work in music, radio, and films.
Danny Kaye was knighted by Queen Margrethe II of Denmark in 1983 for his 1952 portrayal of Hans Christian Andersen in the film of the same name.
Kennedy Center Honor (1984)
French Legion of Honor (Chevalier of the Légion d'honneur) on February 24, 1986 for his UNICEF work.
The song I Wish I Was Danny Kaye on Miracle Legion's 1996 album Portrait of a Damaged Family
On June 23, 1987, Kaye was posthumously presented with the Presidential Medal of Freedom by President Ronald Reagan. The award was received by his daughter Dena.
UNICEF's New York Visitor's Centre is named to honor Danny Kaye.
In December 1996, the PBS series, American Masters, aired a special on the life of Danny Kaye.
Filmography
Film
#
Title
Year
Role
Director
Co-stars
Filmed in
1.
Moon Over Manhattan
1935
Himself
Al Christie
Sylvia Froos, Marion Martin
Black and white
2.
Dime a Dance
1937
Eddie
Al Christie
Imogene Coca, June Allyson
Black and white
3.
Getting an Eyeful
1938
Russian
Al Christie
Charles Kemper, Sally Starr
Black and white
4.
Cupid Takes a Holiday
1938
Nikolai Nikolaevich (bride-seeker)
William Watson
Douglas Leavitt, Estelle Jayne
Black and white
5.
Money on Your Life
1938
Russian
William Watson
Charles Kemper, Sally Starr
Black and white
6.
Up in Arms
1944
Danny Weems
Elliott Nugent
Dinah Shore, Dana Andrews
Technicolor
7.
Wonder Man
1945
Edwin Dingle / Buzzy Bellew
H. Bruce Humberstone
Virginia Mayo, Vera-Ellen, Steve Cochran
Technicolor
8.
The Kid from Brooklyn
1946
Burleigh Hubert Sullivan
Norman Z. McLeod
Virginia Mayo, Vera-Ellen, Steve Cochran, Eve Arden
Technicolor
9.
The Secret Life of Walter Mitty
1947
Walter Mitty
Norman Z. McLeod
Virginia Mayo, Boris Karloff, Fay Bainter, Ann Rutherford
Technicolor
10.
A Song Is Born
1948
Professor Hobart Frisbee
Howard Hawks
Virginia Mayo, Benny Goodman, Hugh Herbert, Steve Cochran
Technicolor
11.
It's a Great Feeling
1949
Himself
David Butler
Dennis Morgan, Doris Day, Jack Carson
Technicolor
12.
The Inspector General
1949
Georgi
Henry Koster
Walter Slezak, Barbara Bates, Elsa Lanchester, Gene Lockhart
Technicolor
13.
On the Riviera
1951
Jack Martin / Henri Duran
Walter Lang
Gene Tierney, Corinne Calvet
Technicolor
14.
Hans Christian Andersen
1952
Hans Christian Andersen
Charles Vidor
Farley Granger, Zizi Jeanmaire
Technicolor
15.
Knock on Wood
1954
Jerry Morgan / Papa Morgan
Norman Panama
Mevin Frank
Mai Zetterling, Torin Thatcher
Technicolor
16.
White Christmas
1954
Phil Davis
Michael Curtiz
Bing Crosby, Rosemary Clooney, Vera-Ellen, Dean Jagger
VistaVision
Technicolor
17.
The Court Jester
1956
Hubert Hawkins
Norman Panama
Mevin Frank
Glynis Johns, Basil Rathbone, Angela Lansbury
VistaVision
Technicolor
18.
Merry Andrew
1958
Andrew Larabee
Michael Kidd
Salvatore Baccaloni, Pier Angeli
CinemaScope
Metrocolor
19.
Me and the Colonel
1958
Samuel L. Jacobowsky
Peter Glenville

Curd Jürgens, Nicole Maurey, Françoise Rosay, Akim Tamiroff

Black and white
20.
The Five Pennies
1959
Red Nichols
Melville Shavelson
Barbara Bel Geddes, Louis Armstrong, Tuesday Weld
VistaVision
Technicolor
21.
On the Double
1961
Pfc. Ernie Williams
Melville Shavelson
Dana Wynter, Margaret Rutherford, Diana Dors
Panavision
Technicolor
22.
The Man from the Diner's Club
1963
Ernest Klenk
Frank Tashlin
Cara Williams, Martha Hyer
Black and white
23.
The Madwoman of Chaillot
1969
The Ragpicker
Bryan Forbes
Katharine Hepburn, Charles Boyer
Technicolor
Television
Autumn Laughter (1938) (experimental telecast)
The Secret Life of Danny Kaye (1956) (See It Now special)
An Hour With Danny Kaye (1960 and 1961) (specials)
The Danny Kaye Show with Lucille Ball (1962) (special)
The Danny Kaye Show (1963-€œ1967) (series)
The Lucy Show:"Lucy Meets Danny Kaye" (1964) (guest appearance)
Here Comes Peter Cottontail (1971) (voice)
The Enchanted World of Danny Kaye: The Emperor's New Clothes (1972) (special)
An Evening with John Denver (1975) (special)
Pinocchio (1976) (special)
Peter Pan (1976) (special)
The Muppet Show (1978) (guest appearance)
Disneyland's 25th Anniversary (1980) (special guest appearance)
An Evening with Danny Kaye (1981) (special)
Skokie (1981)
The New Twilight Zone:"Paladin of the Lost Hour" (1985) (guest appearance)
The Cosby Show:"The Dentist" (1986) (guest appearance)
Discography
Studio Albums
Soundtracks
Story Albums
Compilations
Courtesy of Wikipedia