Danny Kaye: King of Jesters by David Koenig
Editorial review of Danny Kaye: King of Jesters, courtesy of Amazon.com
You remember the red-haired zany from the holiday favorite White Christmas … the lovable storyteller Hans Christian Andersen … the daydreamer Walter Mitty … the tongue-tied Court Jester … Now step behind the camera during the making of these classic movies.
Packed with never-before-published anecdotes and photos, Danny Kaye: King of Jesters takes the first-ever behind-the-scenes look at the creation of his film, TV, radio and stage work, and at the secret life of the incredible' performer behind them.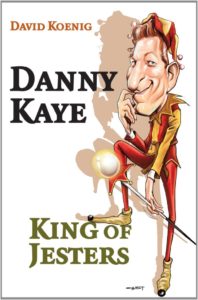 As the first performer ever to be personally requested by His Highness to headline a Command Performance, Danny Kaye was literally both King of Jesters and Jester of Kings. But his was a life built on much more than buffoonery, for he could conceivably master any discipline he committed himself to singing straight or scat, dancing, comedy, even the culinary arts and humanitarian efforts, indeed anything he put his mind to.
Ironically, it took years for him to be discovered in show business because he could do too much and proved impossible to classify. So, too, his particular genius required absolute concentration so absolute that everything and everyone around him usually vanished. Consequently, he ceded management of his career to others first a kindly Catskills mentor, then revue impressario Max Liebman, and finally hyper-aggressive songstress Sylvia Fine, who would catapult Kaye to stardom and become his lifelong coach, content provider, and wife.
Although he reached princely heights as an entertainer, his six-decade career in show business never resulted in an accurate, even-handed biography or analysis of his work. Danny Kaye: King of Jesters provides both. Based on decades of research and interviews, the book clears up previous misconceptions about Kaye, right down to his birthday. Even more, it is a fun, backstage look at the making of his greatest roles, recounting the production of all of his films, his weekly TV series, radio series, Broadway roles, and the best of his work off-Broadway, in audio recordings, and TV specials.