The Inspector General (1949) starring Danny Kaye, Walter Slezak, Barbara Bates
"The Inspector General, generally he inspects."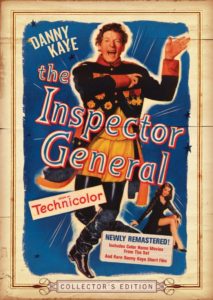 I'm a longtime fan of' Danny Kaye – €one of the screen's greatest clowns, he has room to truly strut his stuff in this wonderful film. The movie begins as Georgi (played by Danny Kaye) is working with his partner Yakov (played wonderfully by Walter Slezak).  They are a pair of traveling snake oil salesmen.  €Georgi, of course, feels quite bad about selling the bogus goods to innocent peasants, and nearly gets the pair hung.  The stage is set with the two main characters: Georgi the nice, sweet, simple, illiterate, dumb-as-a-stump, lovable waif at large in the world, and Yakov, his only friend, who would gladly sell him down the river in a moment. Frankly, Yakov is the finest example of this type of character I've ever seen.  He's simultaneously likable and despicable, and a joy to watch.
The pair soon separates, and Georgi stumbles into a town, where he's first imprisoned as a vagrant, then (incorrectly) assumed to be the corruption-overthrowing Inspector General, who's supposedly traveling in disguise. The mistaken identity is played to the hilt by Yakov, who returns to take advantage of the situation, and to milk the town's corrupt officials.
The' corrupt officials make several attempts to kill Georgi, all of which fail – €after all, how menacing can' Alan Hale (the Skipper from Gilligan's Island' fame) be, after all – €in humorous ways. The obligatory love interest is provided (upright young peasant girl, who knows that the Inspector General will set everything right). Eventually,' the real Inspector General appears, and after a few moments of tense drama, all is set right.
In this film,' Danny Kaye does it all and does it all well. He sings & dances, inducing bouts of hysterical laughter along the way. He plays the lovable innocent, whom everybody roots for.  Danny plays comic foil to Yakov and the corrupt townspeople. He plays the romantic. He does the right thing, knowing it will put his neck in the noose, time and again. In a nutshell, it's one of the finest comedies I've ever seen, and I recommend it highly. Clowns are well advised to watch it twice – €once for pure enjoyment, and the second time with a notebook, to learn how well character-derived comedy works.
I rate it 4 clowns on a 5-clown scale.  Be sure to check out the funny movie quotes from The Inspector General
Editorial review of The Inspector General, starring Danny Kaye, courtesy of' Amazon.com
This release is a must own for anyone who either wants to learn more about Kaye's work, or just wants to be introduced to a canon that frankly, is under-looked. A perfect launching point for those looking to be introduced to Kaye's filmography, the release is dense, entertaining, and visually striking. Simply put, this is a must own for fans or novices alike. —Criterion Cast, September 2011
Product Description
Danny Kaye shines as Georgi in this 1949 satirical musical comedy about a lovable buffoon who wanders into a town where he is mistaken for the Inspector General by its corrupt mayor. Fearing exposure, the mayor and his equally crooked councilors make attempts to assassinate him, but the kindly townspeople are on Georgi's side. Loosely based on the play by Nikolai Gogol, this Henry Koster gem ranks among Danny Kaye's most celebrated movies. Newly Remastered!
---
Trivia for' The Inspector General' starring Danny Kaye
Near the beginning of the movie Leza (Barbara Bates) is tightening the corset of Maria (Elsa Lanchester). Maria demands that Leza tighten the corset more and Leza explains that is already tight. After Maria leaves another character comments that Leza was correct and the corset was too tight.  "It makes her eyes bug out".  This was an inside joke since Elsa Lanchester's eyes were somewhat protuberant.
Nikolai Gogol's play, The Inspector General opened in St. Petersburg, Russia. in April 1836.