Description of' On the Riviera' starring Danny Kaye, Gene Tierney, Corinne Calvet
Jack Martin (Danny Kaye), an American entertainer working cabarets on the French Riviera, does an impersonation of philandering industrialist Henri Duran (Kaye, again) so convincingly that even Duran's beautiful wife (Gene Tierney) is fooled by it. When Duran's business interests compel him to be in London when he should be hosting a large soiree at his home, Martin is persuaded to impersonate Duran at the party. But matters threaten to get out of hand when Martin (as Duran) is confronted by several of the philanderer's women, and by Duran's ruthless business rival, M. Periton (Jean Murat).
Cast of characters
Jack Martin (Danny Kaye, The Inspector General). An American entertainer performing on the French Riviera. Unfortunately, he's about to be fired. He's entertaining the customers, but the owner's seen all of Jack's routines, and he's bored. Unless, of course, Jack can come up with a new routine …
Henri Duran (also Danny Kaye). A famous aviator, who's just completed an around the world trip. His landing disrupts Jack's performance, and he's greeted by several beautiful women … none of whom are his wife. In addition to being an aviator and an industrialist, he's a serial philanderer. And greats his poor wife terribly. Not intentionally, but still …
Lili Duran (Gene Tierney, Laura). Henri's suffering wife. She truly loves him, despite his many trysts and girlfriends. However, the shoe's on the other foot when Henri hires Jack to impersonate him … without Lili's knowledge. And Henri becomes insecure about how Lili might feel about Jack!
Colette (Corinne Calvet, My Friend Irma Goes West). Jack's partner and girlfriend. And she gets jealous, when she thinks that Jack (impersonating Henri) is paying a little too much attention to the lovely Mrs. Duran …
Felix Periton (Jean Murat, Paris Holiday). Henri's business rival. He's the catalyst that causes Henri to hire Jack to impersonate him. This leaves Henri free to leave France while Jack takes his place. Felix is unaware, and Jack actually saves Henri's company … unintentionally.
Gapeaux (Sig Ruman, A Night at the Opera). A minor role as the man who's about to fire Jack. Until Jack creates a new musical routine impersonating the famous aviator Henri. This, of course, is what inspires Henri to hire Jack to impersonate him.
Editorial Review of On the Riviera (1951) starring Danny Kaye, Gene Tierney, Corinne Calvet, courtesy of Amazon.com
Just as Love Affair inspired An Affair to Remember and Sleepless in Seattle, Folies Bergere inspired That Night in Rio and On the Riviera. In Walter Lang's Technicolor version, Danny Kaye' takes on a dual role previously assumed by Maurice Chevalier and Don Ameche. A master of mistaken identity, Kaye makes it his own. His Jack Martin is an American song and dance man based in Monte Carlo. When playboy aviator Henri Duran (Kaye with French accent) returns from his latest adventure, Martin notices a resemblance. He also notices Duran's neglected wife, Lili (Gene Tierney). After Duran is called away on business, Martin is enlisted to impersonate him for an important function. That gives him the chance to cozy up to Lili–and infuriate dance partner Colette (Corinne Calvet). Duran pays him back with an impersonation of his own.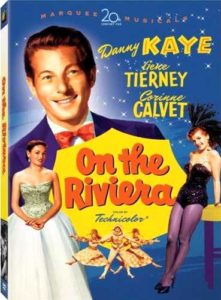 It isn't Twelfth Night, but On the Riviera is an enjoyable diversion. It also represents a family affair, since designer Oleg Cassini outfitted wife Tierney and Sylvia Fine penned tunes for husband Kaye' (except for the standard "Ballin' the Jack"). Though considered a minor effort in the canons of Lang and Kaye–the musical was more of an audience favorite than a critical darling–Fox has done right by this long-unavailable title with an interactive press book, featurettes, lobby cards, and a pristine print (heavy on the brilliant blues). Look sharp for future Fosse hoofer (and wife) Gwen Verdon as a dancer and Tierney's famous Laura portrait above Duran's fireplace. —Kathleen C. Fennessy
Songs
On the Riviera, Written by Sylvia Fine. Sung by an off-screen chorus during the opening credits and at the beginning,Performed by Danny Kaye
Rhythm of a New Romance, Written by Sylvia Fine, Performed by Danny Kaye
Popo the Puppet, Written by Sylvia Fine, Performed by Danny Kaye and others
Happy Ending, Written by Sylvia Fine, Performed by Danny Kaye
Chica Chica Boom Chic. Music by Harry Warren, Lyrics by Mack Gordon, Sung briefly by Danny Kaye while impersonating Carmen Miranda
Ballin' the Jack, (1913) Music by Chris Smith, Lyrics by Jim Burris,
Performed by Danny Kaye and band