Review of A Song is Born, starring Danny Kaye and Virginia Mayo
A Song is Born is a very unusual Danny Kaye film, in that it's less of a comedy and more of a musical romance.  In no small way, it's an opportunity for a variety of the leading musicians of the time to perform, including Tommy Dorsey, Benny Goodman, Louis Armstrong, Lionel Hampton, and Benny Carter. Other notable musicians playing themselves in the cast include Charlie Barnet, Mel Powell, Harry Babasin, Louis Bellson, Al Hendrickson, The Golden Gate Quartet, Russo and the Samba Kings, The Page Cavanaugh Trio, and Buck and Bubbles.
Synopsis of A Song is Born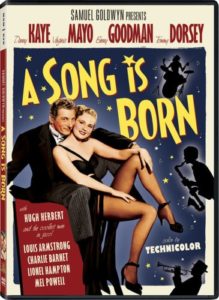 Mild-mannered musical Professor Hobart Frisbee (Danny Kaye) and his fellow academics, including Professor Magenbruch (Benny Goodman), are writing a musical encyclopedia. When they discover that there is new popular music called jazz, swing, boogie-woogie or bebop introduced by two window washers Buck and Bubbles, Frisbee decides to investigate the phenomenon first-hand. Soon, the Professor becomes entangled in the problems of nightclub singer Honey Swanson (Virginia Mayo). She needs a place to hide out from the police, who want to question her about her gangster boyfriend Tony Crow (Steve Cochran). She invites herself into their sheltered household, over Frisbee's objections. While there, she introduces them to the latest in jazz.  They're unfamiliar with it, giving the film an excuse to feature many of the best musicians of the era. The songs they play include "A Song Is Born", "Daddy-O", "I'm Getting Sentimental Over You", "Flying Home", and "Redskin Rumba".
Eventually, Tony tries to collect Honey, but by that time, she and Hobart Frisbee have fallen in love. The finale is the funniest part of the picture.  The various musicians trying to repeat the "Walls of Jericho" by using their music to overpower the two gangsters holding them hostage.  Tony's forcing Honey to marry him, so she can't testify against him.  Will the power of music defeat the power of the gun?  Will true love win out?  Will Honey and Hobart live happily ever after?  Do you really need to ask these questions?
Honey Swanson: [about Frisbee] Yes, I love him. I love those hick shirts he wears with the boiled collars and the way he always has his coat buttoned wrong. It looks like a giraffe, and I love him. I love him because he's the sort of a guy that gets drunk on a glass of buttermilk. And I love the way he blushes right up over his ears. I love him because he… he doesn't know how to kiss, the jerk.
A Star is Born' is available on DVD, and I rate it 2 stars out of 5.  Certainly not a top-notch Danny Kaye comedy, but still very enjoyable viewing on a quiet Saturday afternoon, especially for fans for swing and jazz.
Editorial review of A Song is Born, starring Danny Kaye and Virginia Mayo, courtesy of' Amazon.com
There's little question that a remake of a successful film, even if inferior to the original (witness Sabrina), can be well received by an audience. It's unfortunate that this highly entertaining film is often dismissed in the wake of its equally excellent and successful predecessor (Ball of Fire, starring Gary Cooper and Barbara Stanwyck). Both films are directed by legend Howard Hawks, whose stamp on each film is evident but also gives each its own flavor and tone.' A Song Is Born' is unique in that it was remade, not in the usual 20-plus years after the original, but a mere 7 years later.
A Song Is Born' must be considered a stand-alone film–both Danny Kaye and frequent costar Virginia Mayo deliver topnotch musical-comedic-dramatic performances. The story centers on a group of anachronistic music academics who become involved with a nightclub singer (Mayo), who they hope will teach them about contemporary music, but who also happens to be the moll of a well-known gangster (another Kaye-Mayo costar, Steve Cochran).
This time around, Hawks makes full use of Technicolor (Ball was in black and white), and the richness of the film is a nice complement to the fun story and the great soundtrack. For the music fan–especially given the swing revival–there's plenty of eye candy, including Benny Goodman, Tommy Dorsey, Louis Armstrong, Lionel Hampton, Charlie Barnett, and Mel Powell. —N.F. Mendoza
Trivia for A Song is Born
(Inside joke) When asked to play without music, Prof. Magenbruch (Benny Goodman) says, "You can't play without music".  The others answer, "Well, Benny Goodman used to". Magenbruch then says he's never heard of Benny Goodman.
---