Editorial review of White Christmas (1954) starring Danny Kaye, Bing Crosby, courtesy of Amazon.com
This semi-remake of' Holiday Inn' (the first movie in which Irving Berlin's perennial, Oscar-winning holiday anthem was featured) doesn't have much of a story, but what it does have is choice' Bing Crosby, Danny Kaye, Rosemary Clooney, an' all-Irving Berlin song score, classy direction by Hollywood vet Michael Curtiz (Casablanca,' The Adventures of Robin Hood), VistaVision (the very first feature ever shot in that widescreen format), and ultrafestive Technicolor!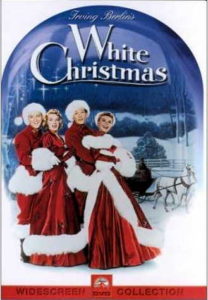 Crosby and Kaye are song-and-dance men who hook up, romantically and professionally, with a "sister act (Clooney and Vera-Ellen) to put on a Big Show to benefit the struggling ski-resort lodge run by the beloved old retired general (Dean Jagger) of their WWII Army outfit. Crosby is cool, Clooney is warm, Kaye is goofy, and Vera-Ellen is leggy. Songs include: "Sisters (Crosby and Kaye do their own drag version, too), Snow, We'll Follow the Old Man, Mandy, Count Your Blessings Instead of Sheep, and more. Christmas would be unthinkable without' White Christmas. —Jim Emerson
There's a lot of verbal humor as well – please check out the funny movie quotes from White Christmas
Trivia for' White Christmas' (1954) starring Bing Crosby, Danny Kaye
Danny Kaye' was a last-minute replacement for the originally cast Donald O'Connor.
The first film produced in Paramount's wide screen process "VistaVision".
The TV camera in the Ed Harrison Show scene is a real one (a classic RCA monochrome; the cameraman is hiding the telltale logo with his hand), but the call sign atop it was real as well – it was that of Channel 4, NBC's (and thus RCA's) flagship station in New York, which changed its call sign to WRCA-TV the year of the film's release. (They adopted their current WNBC-TV calls in 1960.)
The original idea was to reunite Fred Astaire and Bing Crosby, as they had been successful in Holiday Inn (1942). Astaire refused, as he had "retired" at the time, so the part was reworked for Donald O'Connor. O'Connor pulled out, and the part was reworked for Danny Kaye.
The photo that Vera-Ellen shows to Bing Crosby and Danny Kaye of her brother, Bennie, is actually a photo of Carl "Alfalfa" Switzer.
All of Vera-Ellen's costumes, down to her robe and sleepwear, were designed to cover her neck, which was aged beyond her years due to her eating disorder, anorexia.
The Vermont inn is the remodeled Connecticut inn set of Holiday Inn (1942).
The song "Snow" was written by Irving Berlin many years before the film. It was originally called "Free," and included a different subject and lyrics. Berlin rewrote the song with a winter theme for White Christmas (1954).
The "Sisters" comedy act that Bing and Danny perform was not originally in the script. They were clowning around on the set and the director thought it was so funny that it was written in.
Even though Betty was the elder of the Haynes sisters, Rosemary Clooney was actually seven years younger than Vera-Ellen in real life.
According to Rosemary Clooney, the "midnight snack" scene in which Bob Wallace expounds on his theory of what foods cause what dreams was almost entirely improvised.
Many of Bob Wallace's more unusual turns of phrase were lifted straight from Bing Crosby's own speech patterns.