Wonder Man (1945) starring Danny Kaye, Virginia Mayo, Vera-Ellen
Danny Kaye's Wonder Man serves as a vehicle for Danny Kaye to show off his versatility in singing, dancing, and comedy.  Danny Kaye plays twin roles – €literally.  He's Edwin Dingle, an academic bookworm, and his twin brother, Buzzie Bellew, famous nightclub entertainer.  Buzzie is the only eyewitness to a murder by the villain of the movie, Ten Grand Jackson.  In addition, Buzzie is engaged to Midge (played by Vera-Ellen, his romantic lead from' White Christmas), although he keeps "postponing" the wedding.'  Early in the movie, after a very entertaining sample of Buzzy's nightclub act (which gave me a better appreciation for Danny Kaye's dancing ability), Buzzy is murdered by two of Ten Grand Jackson's goons.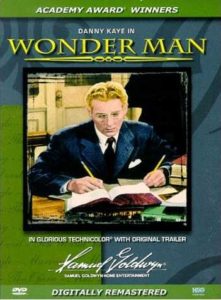 Shortly, Buzzy's ghost tries to lure his twin brother to Prospect Park, where his body has been dumped in a lake.  Buzzy's ghost proceeds to "take control" of Edwin's body, in an attempt to bring Ten Grand Jackson to justice.  The running gag then becomes the unskilled Edwin being dependent on Buzzy to perform.  But Buzzy keeps being late…  Eventually, without Buzzy's help, Edwin manages to bring everything to a head, leading to the apprehension of Buzzy's murderer.
Highlights of the film include several of "Buzzy's" routines.  These include the hilarious Russian singer with hay fever, as well as the climax at the Opera.  With Danny Kaye performing the opera in pig latin.  If there is a downside, it's the entire "possession" aspect of the film, which turned me off.  But that's up to you to judge.
Something else that should be mentioned is that, given the age of the film, the various "ghostly" special effects still hold up well.  It's clear why Wonder Man' won the Academy Award for best special effects.
One last note: there's a lot of verbal comedy – be sure to check out the funny movie quotes from Wonder Man.
Plot summary of Wonder Man' starring Danny Kaye, Virginia Mayo
Boisterous nightclub entertainer Buzzy Bellew was the witness to a murder committed by gangster Ten Grand Jackson. One night, two of Jackson's thugs kill Buzzy and dump his body in the lake at Prospect Park in Brooklyn. Buzzy comes back as a ghost and summons his bookworm twin, Edgar Dingle, to Prospect Park so that he can help the police nail Jackson.