The Secret Life of Walter Mitty (1947) starring Danny Kaye, Virginia Mayo, Boris Karloff
In The Secret Life of Walter Mitty, Danny Kaye' is a natural to play the part of Walter Mitty, the henpecked man who takes refuge from his boring life by engaging in a series of fantasies – brave sea captain, fashion designer, surgeon, cowboy, etc.  Of course, in order to make the movie fit the "romantic comedy" template, the Samuel Goldwyn Company took enormous liberties with the original short story by James Thurber – €and changed the character of Walter Mitty from a middle-aged, henpecked husband to a' young man who's living with his overprotective mother, engaged to a young woman with an overbearing future mother-in-law and oppressed by his boss at work.'  However, I don't think that anybody besides James Thurber minded.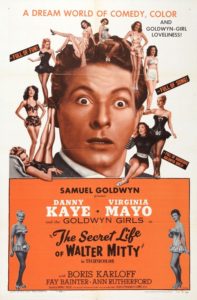 Danny Kaye takes the opportunity of the film to play eight different, funny, mini-characters, as well as telling the broader story.'  The broader story involves the daydreaming Walter Mitty (Danny Kaye) getting involved in a murder and a beautiful young woman named Rosalind (Virginia Mayo) who's the beautiful woman from all of his daydreams.'
The plot has to do with Nazi criminals trying to track down valuables that were hidden from the Nazis during World War II, including a very menacing Boris Karloff as Dr. Hollingshead.  Later in the film he plays the psychiatrist that's trying to persuade Walter Mitty / Danny Kaye that he's been imagining the entire thing.  And very nearly convinces him that he is insane.'  In the end, as part of a very comic (and menacing) chase sequence, the criminals are caught, and Walter Mitty/Danny Kaye gets up the courage to tell off his controlling mother, fiancee, and boss.  And gains a new respect from them, as well as the love of Rosalind, and lives happily ever after.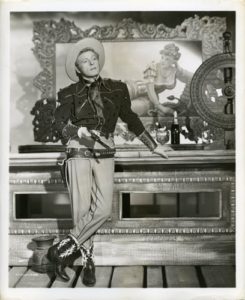 The Secret Life of Walter Mitty is a very funny film, and a great vehicle for Danny Kaye.  For me, one of the highlights of the film is the fantasy-within-a-fantasy performance of Symphony For an Unstrung Tongue (The Little Fiddle) – €a hilariously funny Danny Kaye sketch, which can be viewed via YouTube.'  The movie is highly recommended.
Editorial review of The Secret Life of Walter Mitty (1947), starring Danny Kaye, Virginia Mayo, Boris Karloff, courtesy of' Amazon.com
If there's one movie Danny Kaye fans fondly remember, it's' The Secret Life of Walter Mitty. The versatile comedian–also an unsurpassed song-and-dance man–plays a henpecked, thriller-genre book writer suddenly enmeshed in a real adventure involving the (literal) girl of his dreams (Virginia Mayo). Initially criticized for not staying true to the more melancholic sensibility of author James Thurber's original story (Thurber allegedly offered producer Samuel Goldwyn $10,000 to not make the film), it not only works as an independent story, but remains highly entertaining and wears well upon repeated viewing.
Kaye's milquetoast Walter fantasizes distractedly about being heroic, whether a gunslinger, an Air Force pilot, or a riverboat gambler. His Anatole of Paris number, in which Walter fancies himself a French hat designer who, in the end, declares he hates women, is nothing short of brilliant. That number, like many of Kaye's trademark patter deliveries, was penned by his wife, Sylvia Fine. Kaye benefits from a wonderful supporting cast: Mayo;' Boris Karloff as maniacal Dr. Hugo Hollingshead; Faye Bainter as Walter's repressive but lively mother; Ann Rutherford as his suspicious fiancee Gertrude; and Gordon Jones as Tubby, who not only has designs on Gertrude, but provides the villain in Walter's fantasies. —N.F. Mendoza
Trivia for The Secret Life of Walter Mitty, starring Danny Kaye (1947)
Author James Thurber offered producer Samuel Goldwyn $10,000 to not make the film.
Author James Thurber has acknowledged that the character Walter Mitty was based on his friend, writer Robert Benchley. Thurber said that he got the idea for Mitty from the character created by Benchley in a series of shorts he made for Fox and MGM respectively, in the 1920s and 1930s. Thurber is also on record as saying that he hated this version of the film, and that Danny Kaye's interpretation of Mitty is nothing at all like Thurber intended the character to be.
Danny Kaye's wife, Sylvia Fine, wrote the lyrics to a song in which Walter Mitty fantasizes that he is a misogynist women's hat designer. She was a musical theatre buff, and introduced a reference to the song Ol' Man River (from "Show Boat) into the lyrics of Anatole of Paris, as well as satirical references to Show Boat in one of Mitty's daydreams.
Funny Movie Quotes from' The Secret Life of Walter Mitty' (1947)
Gertrude Griswold: Walter, what's that awful smell?
Walter Mitty (Danny Kaye): It's that cologne you gave me for Christmas.
Gertrude Griswold: It's lovely, isn't it?
---
Walter Mitty (Danny Kaye): Your small minds are musclebound with suspicion. That's because the only exercise you ever get is jumping to conclusions.
---
Walter Mitty (Danny Kaye): Here I am, lard face.
---
Mrs. Mitty: The clock didn't strike. I definitely heard it not strike.
---
Dr. Hollingshead (Boris Karloff): Perhaps you are mistaking me for someone else.
Walter Mitty (Danny Kaye): Oh no. No one looks as much like you do as you do.
---
Walter Mitty (Danny Kaye): [singing while daydreaming that he's Anatole of Paris] And why do I sew each new chapeau with a style they must look positively grim in?/Strictly between us, entrez-nous, I hate women.
---
Songs in The Secret Life of Walter Mitty include:
Bridal Chorus (Here Comes the Bride)
Massa's in de Cold, Cold Ground
The Old Folks at Home (Swanee River)
Symphony for an Unstrung Tongue (The Little Fiddle)
---