The Groucho Letters: Letters from and to Groucho Marx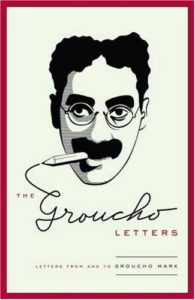 The Groucho Letters – Letters to and from Groucho Marx is a collection of, well, letters sent by Groucho Marx.   If you like Groucho Marx' acerbic sense of humor, you'll love this.   One small example is  Groucho's famous letter to the Warner Brothers about the Marx Brothers'  using the name 'Casablanca' in their film,  A Night in Casablanca.   Letters to his brothers, friends famous and not-so-famous are all filled with his trademark humor.
Book Description of  The Groucho Letters – Letters to and from Groucho Marx
Donated to the Library of Congress in the mid-1960s, Groucho Marx's correspondence was first crafted into this celebration of wit and wisdom in 1967. Reissued today with his original letters and humor intact, The Groucho Letters exposes one of the twentieth century's most beloved comedian's private insights into show biz, politics, business, and, of course, his illustrious personal life. Included are Marx's conversations with such noted personalities as E. B. White, Fred Allen, Goodman Ace, Nunnally Johnson, James Thurber, Booth Tarkington, Alistair Cooke, Harry Truman, Irving Berlin, and S. J. Perelman.