Joseph Grimaldi (December 18, 1778 – May 31, 1837)
Inducted into the 1990 Clown Hall of Fame, Joseph Grimaldi was one of the greatest English pantomimes. His father was Giuseppit Grimaldi (died 1788), an Italian dancing master and pantomimist. Joseph's stage debut was at 3 years old in a dance at Sadler'€™s Wells, London's famous variety theater.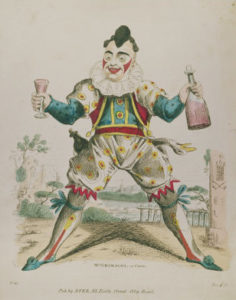 Grimaldi never performed in a circus ring, but spent most of his life performing in full-length pantomimes. He had the most to do with the development of the pantomime character of Clown. He also was the one to give clowns their most enduring nickname, "Joey."
Grimaldi used a substantial amount of color to his mouth, cheeks, and eyebrows over his painted white face. The most striking aspect of his make-up were the large red triangles. His image was followed closely for the next 50 years by most British clowns.
Grimaldi is known for being a master in the use of expressions of the body and face, unique sense of comic timing, imaginative byplay, and his overall comic abilities. He was famous and influential enough in his time to have had Charles Dickens write his biography. For example, here is a short anecdote about the healing power of humor in Joseph Grimaldi's life.

For some interesting anecdotes, you might want to read Incidents in the Life of Joseph Grimaldi
, by Giles Neville. (With paintings by Patricia Neville) – a short collection of moments in Grimaldi'€™s life. For the serious collector, you might want to check out Memoirs of Joseph Grimaldi
, Edited by "Boz" (Collected Works of Charles Dickens).
You may want to see this photo gallery of Joseph Grimaldi.