movie review of Hog Wild (1930) starring Stan Laurel and Oliver Hardy
Hog Wild begins simply enough, with Oliver Hardy at home, looking for his hat … With his wife and maid snickering at him since it's on his head the entire time.  Once Ollie realizes that he attempts to rescue a little of his dignity, and announces that he's going out.  His controlling wife, however, lets him know in no uncertain terms that he's putting up the radio antenna on the roof. (For those who don't get the reference, before the advent of television people got their information from radio broadcasts.  Just like television antennas were a standard in America in the 1950's and 1960's, radio antennas were in the 1930's and 1940's, in order to increase the quantity and quality of programs they could receive)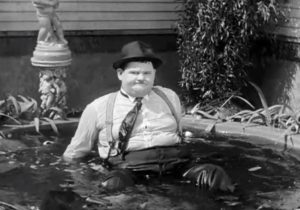 Stan Laurel is on his way over in his car.  He honks his car horn just as Ollie is ascending the ladder, causing him to fall.  Stan offers to help, and Ollie agrees … "If you'll help me! At this point, the audience knows what's going to happen. Ollie puts his ladder on top of Stan's car, in order to get a little more height.  Then the duo gets into the process of installing the radio antenna.  Or more accurately, knocking Ollie off the roof repeatedly.
It's hilariously funny, and a wonderful example of the comedy rule of three.  If only SNL and Mad TV would learn this basic lesson of comedy!  On Ollie's third attempt, he takes the precaution of tying a rope to the rooftop chimney and around his waist – "resulting in his next fall not only landing in his pond, but pulling the chimney down on top of them.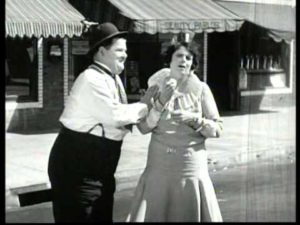 In a final attempt, Ollie climbs that ladder, while Stanley inadvertently starts the car, resulting in a slapstick car ride through very busy streets reminiscent of the Keystone Kops, with Ollie careening wildly.  At the end, Ollie's tearful wife arrives.  Ollie tries to reassure her that he's all right, only to have her tell him that their radio has been repossessed!  Defeated, the three of them climb into Stan's car, which refuses to start – and is trapped between two street cars.  A Looney Tunes-style collision occurs, with Stan's car now resembling an accordion – and drives off.
Hog Wild is a very funny Laurel and Hardy short film, and strongly recommended – I rate it 4 clowns out of 5.