Hollywood Party (1934) starring Jimmy Durante, Laurel and Hardy, the Three Stooges, Mickey Mouse …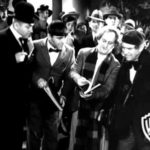 Hollywood Party is a collection of skits, parodies, and bits, strung together with a relatively thin plot.  Jimmy Durante makes fun of Tarzan as Schnarzan, whose public is tiring of him fighting fake lions.  So, in order to appease the public (and purchase live lions from the visiting Baron Munchausen), he throws an enormous "Hollywood Party", inviting everybody in Hollywood€ – except Lupe Velez, who he intentionally is snubbing.  She's not about to take that lying down, however, and crashes the party.  In an interesting note, she plays Jane to Durante's Schnarzan in a movie preview shown in the movie.  In real life, she was the wife of Johnny Weissmuller – Tarzan – at the time).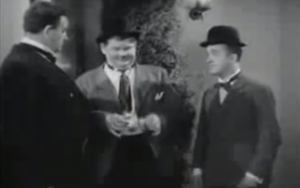 This gives opportunity for numerous song and dance routines, and short routines by the Three Stooges (Moe, Larry and Curly), an animated interlude with Mickey Mouse (who does a Jimmy Durante imitation), and an extended routine (nearly an hour into the movie, that only runs for 1 hour and 15 minutes) with Stan Laurel and Oliver Hardy, who are trying to return the Baron's check and get their lions back.  They have a fight with the butler to get inside the mansion in the first place.  They then have an extended "egg fight" with Lupe.  At the end, they escape from the people chasing them by releasing the lions.  This leaves Jimmy Durante to wrestle a "real" lion at the conclusion.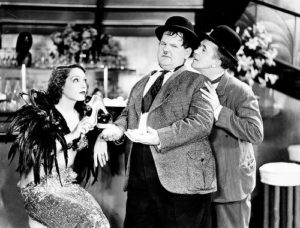 It's a very odd little film; some of the segments are very good (such as the Three Stooges as autograph seekers who interact with a photographer and some self-important professors, the extended Laurel and Hardy, the Disney cartoon, etc.  But overall, not that good.  I rate it 2 clowns out of 5.