Do Detectives Think? (1927) starring Stan Laurel, Oliver Hardy, James Finlayson
Do Detectives Think? is an early Laurel and Hardy silent film.  In fact, this is the first Laurel and Hardy short where Stan and Ollie wear their trademark derby hats.  The basic plot has an escaped murderer, "The Tipton Slasher" out for revenge on the judge who put him behind bars—played by the very funny James Finlayson,
who steals several scenes notably, when the Slasher has broken into his house, and looks for him in the bathroom where the judge is taking a bath, and Finlayson hides in the only place available—under the water—only to come up for air when the Slasher's back is turned, accidentally pulling the plug on the bath water, etc.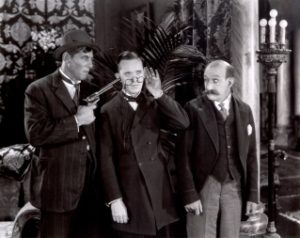 Of course, the main attraction in the film is the pair of detectives hired by the Judge to protect him.  They are Ferdinand Finkleberry (Stan Laurel) and Sherlock Pinkham (Oliver Hardy).  Laurel and Hardy are at their cowardly best trying to apprehend the villain—or at the very least, stay alive.  There's a lot of slapstick, and the pace is very quick, as the Slasher (having impersonated the butler) is lurking abound the Judge's home with a large dagger, which he later "upgrades" with a scimitar off the wall.  There are several funny moments when Stan and Ollie try to apprehend the Slasher, ending with Stanley putting the handcuffs on Oliver by mistake, and after a "ghost scene" locking the Slasher in the closet where Oliver is hiding.
A funny, early short film by the masters of comedy, I truly enjoyed watching Laurel and Hardy's Do Detectives Think? and hope that you do, too.