The Flying Deuces (1939) starring Stan Laurel and Oliver Hardy

 The Flying Deuces is possibly the best-known of Laurel and Hardy's films. This is due to the fact that it's in the public domain and you can find copies for $1.00 at your local Wal-Mart.  Having said that, is it any good?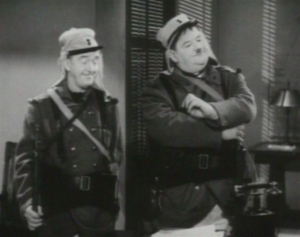 Yes, indeed.  The basic plot is that Oliver Hardy is in love with Georgette, the innkeeper's daughter. Ollie is heartbroken when he finds that she is already married.  Unable to live with his pain, Ollie decides to commit suicide — and take Stan Laurel with him!  After a failed, yet hilarious, attempt at drowning themselves (I love the "snuffleupagus" moment with the shark swimming by), the boys instead join the French Foreign Legion.  Inevitably, their bumbling gets them charged with desertion, and they are sentenced to be shot at sunrise.  The boys manage to escape in a stolen airplane, ending with a crash.
Highlights include the raw comedy moments with the attempted drowning, several funny moments at the French Foreign Legion, and two very nice musical moments (a short song-and-dance routine when they arrive at the French Foreign Legion, and Stan serenading Ollie playing his bedspring like a harp).  The only negative that I have is their trying to tie reincarnation in with a joke at the end that, frankly, falls flat.
Trivia for The Flying Deuces (1939) starring Stan Laurel, Oliver Hard
The sketch of Stan and Ollie in the first scene was drawn by Harry Langdon.
Stan and Ollie are thrown into a cell to await execution at sunrise. Stan discovers that he can strum his bed springs and play it like a harp. The music he plays is "The World is Waiting for the Sunrise".
On the set of this film, Oliver Hardy met his future wife, script supervisor Virginia Lucille Jones.
This is Laurel & Hardy's only non-Hal Roach-produced film in which Stan Laurel had a hand in the writing and editing (as he had in the Roach films).