The Lost Films of Laurel & Hardy – The Complete Collection, Vol. 5 (1929)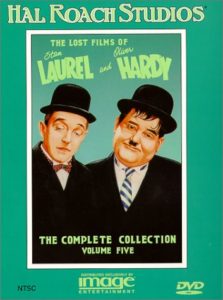 A collection of Laurel and Hardy short films from the Roach Studios, including some individual efforts.  The short films included on this DVD include:
Duck Soup
Pursued by forest rangers who want to press them into fire-fighting duty, Stan Laurel and Oliver Hardy hide in the home of a big-game hunter who has just left town. When they find out that the servants will be away for the weekend, they decide to stay for a while. The house is being offered for rental, and when prospective tenants come, Oliver pretends to be the owner and Stanley pretends to be a servant.

Leave 'Em Laughing

Leaving the dentist's office, where Hardy's teeth have been extracted by mistake, the boys, still under the influence of laughing gas, meet up with a traffic cop (Edgar Kennedy) and cause a huge traffic jam.
Among the horses that stable hands Stanley and Oliver are tending is a thoroughbred named "Blue Boy." But when they overhear two men talking about a $5000 reward for the return of the stolen "Blue Boy," they miss the part about it being the painting, not the horse. They get the owner's address, though, and bring the horse along to claim the reward. They wonder at the rich man's instructions to put "Blue Boy" on the piano but, Oliver explains, "these millionaires are peculiar."
Loony scientist (Richard Carle) hires Laurel and Hardy to raid the cemetery to keep him supplied with dead bodies for his experiments.

Short Kilts

(Stan Laurel and James Finlayson) As a way to make peace between two feuding Scottish clans, one invites the other over for supper.  But things don't turn out quite as expected.

Fluttering Hearts

(Charley Chase and Oliver Hardy) Ignoring her father's attempts to counsel her, a young woman races off to a sale at a store. Chased by a motorcycle policeman, she eventually wins him over with the help of a friendly millionaire. Meanwhile, her father desperately needs to retrieve a compromising letter that he once wrote…  And he will need help to do it.