The Fighting Kentuckian (1949) starring John Wayne, Oliver Hardy, Vera Ralston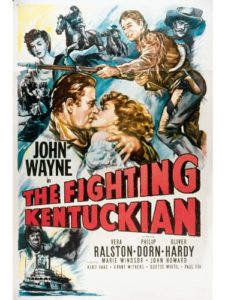 The Fighting Kentuckian is a romantic western starring John Wayne – except that the Western is set in the East.  The setting is after the war of 1812, where John Wayne's character, John Breen, is returning home with his battalion to Kentucky after having served under Andrew Jackson in the War of 1812.  They pass through Alabama, where he meets and rapidly falls in love with a young French exile, Fleurette De Marchand (played by the beautiful Vera Ralston).  She is part of the exiles from France, soldiers and their family loyal to the exiled Napoleon.  John Wayne's character decides to muster out of the army and stay here, and his friend Willie Paine (played wonderfully by Oliver Hardy, who is very funny here, but in a much more serious role than when teamed with Stan Laurel) stays behind to keep him out of trouble.
There are two or three underlying plot threads in the movie: John Breen's courtship of Fleurette, even though she's already engaged to wealthy businessman Blake Randolph; the villainous George Hayden plotting to steal the land out from under the feet of the French exiles; and the tensions between the various people who are vying for control in the area.  It's a very good movie, with a nice blend of romance, comedy, and action.  Instead of the Cavalry coming to the rescue at the end of the movie, it's the Kentucky battalion.  A very good, enjoyable movie and I recommend it highly – I rate it 4 clowns out of a possible 5.
For a different opinion, read the editorial review from Amazon.com below:
Editorial review of The Fighting Kentuckian, courtesy of Amazon.com
Here's something you don't see every day. Then again, would you want to? Several years before the 1950s' Davy Crockett craze, John Wayne donned a coonskin cap to play a militiaman in early-19th-century Alabama. He and his fellow Kentuckians are just passing through– "marching 600 miles," as they merrily sing (and sing, and sing), because riverboat magnate John Howard has refused to haul them. Howard and all-purpose scoundrel Grant Withers are scheming to dispossess a community of French émigrés–veterans of Napoleon's Grand Army who've come seeking life, liberty, etc. in the New World. Howard's also out to marry Vera Ralston, the French general's daughter. Naturally, Wayne's just the lad to gum up both plans.
Wayne himself produced The Fighting Kentuckian, but far from repeating the success of his maiden effort, Angel and the Badman, this is one of the feeblest films in his long career. Writer-director George Waggner never gets a handle on what a pre-Western should look and move like. Consequently, the cast does a lot of standing around looking silly in period costume, waiting–mostly in vain–for the script to establish their connection to one another and something resembling a plot. There is a glossier look to the proceedings than most Republic pictures achieved, thanks to Lee Garmes's pearly cinematography, but this is scant consolation. So is the almost creepy presence of Oliver Hardy, sans Laurel, doing Ollie-shtick as Wayne's jolly sidekick. No, he doesn't say, "This is another fine mess you've got me into!" But he should. –Richard T. Jameson
Movie quotes from The Fighting Kentuckian
Troopers: [Troop sings] Only five hundred miles more to go/ Only five hundred miles more to go/ And if we can just get lucky/ we will make it to Kentucky/ Only five hundred miles more to go.
---
Beau Merritt: [holding up a glass] Have a shot?
John Breen (John Wayne): [holding up his wounded arm] Just had one.
---
[repeated line]
Willie Paine (Oliver Hardy): I'll see to the horses.
---
John Breen (John Wayne): [to the mortally wounded Blake Randolph] Hello, hero.
---
Trivia about The Fighting Kentuckian
Although Oliver Hardy was a good friend of John Wayne's, he initially balked at acting in this movie, for fear that it would make people think that he and Stan Laurel had broken up as a team. When Laurel insisted that Hardy take the role, he acquiesced.
One of two movies that Oliver Hardy acted in during the 23 year period he made comedies with his partner Stan Laurel.
John Wayne was so pleased with the chemistry between himself and Oliver Hardy that he offered Hardy the role of "permanent comic sidekick" in subsequent movies. By the time this picture was released, Stan Laurel had recovered from illness and was able to return to the Laurel & Hardy team, so Hardy (graciously, of course) declined Wayne's offer.
John Wayne later blamed the failure of the movie on co-star Vera Ralston.