Biography of Ed Wynn (Isaiah Edwin Leopold) (November 9, 1886 – June 19, 1966)
I
saiah Edwin Leopold, known around the world as Ed Wynn, was born in Philadelphia, Pennsylvania, USA on November 9, 1886.   As a teenager, he ran away from home and used his middle name, Edwin, as his stage name – Ed Wynn.   Although he eventually became a headliner in vaudeville, his early years were less successful.   At one point, he worked as an on-stage assistant to (then) comedy juggler W. C. Fields. The curmudgeonly Fields caught him 'mugging'for the audience during Fields' "Pool Room" routine and knocked him unconscious with his pool cue. Ed Wynn went on to become a headliner in vaudeville in the early-1910s and was a star of the Ziegfeld Follies starting in 1914.   In the same year, he married his first wife, Hilda Keenan.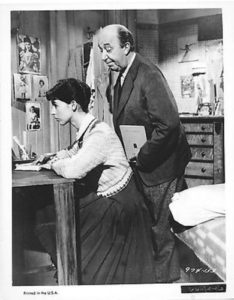 Alongside his success in his work life came the birth of his first son, Keenan Wynn, who would grow up to be a successful actor in his own right.   In 1919, however, after participating in an actor's strike, he was blacklisted by the Shuberts, a major force in vaudeville.   With vaudeville closed to him, he took his clown character, "the perfect fool" to Broadway, writing and producing own shows beginning with Broadway musical revue, "Ed Wynn's Carnival".   He continued expanding into other mediums as well, such as radio (Ed Wynn actually made the first broadcast of a full-length comedy show to a radio audience), silent movies (Rubber Heels) and finally talking pictures (Follow the Leader) as well.   Ed Wynn starred in his own radio series,  The Fire Chief, from 1932 to 1935, but by the end of the 1930's, several of his business ventures collapsed, including a radio chain, and he suffered a severe nervous breakdown.   Ed Wynn retired briefly and had a highly publicized income tax settlement for $510,000 with the government.
By 1940, Ed Wynn returned to Broadway in "Boys and Girls Together", and the next year he became a grandfather.   He came to television in 1949 with  The Ed Wynn Show, for which he won an Emmy and a Peacock in 1950 – and the show ended.   The next year, he supplied the voice and inspired the appearance, of The Mad Hatter in Walt Disney's  Alice in Wonderland.   Still 'retired', his now-adult son, Keenan Wynn, recommended him for a role in the Playhouse 90 production of Rod Serling's  Requiem for a Heavyweight – due to his nerves since he had never acted in a non-comedic role, he kept flubbing his lines, and Ed Wynn was almost removed from the production, since the production would be broadcast live.   However, Jack Palance threatened that he would leave the show if Ed Wynn wasn't there, and to the surprise of most of the cast, Ed Wynn performed flawlessly.   Ed Wynn also performed with his son later on in  The AbsentMinded Professor.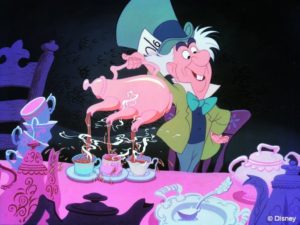 With his first success as an actor, Ed Wynn did many more serious roles over the years, including the dentist Dussell in  The Diary of Anne Frank, a variety of TV appearances including  One for the Angels  on  The Twilight Zone, but he's best remembered for his work in the movies, including  Cinderfella  (1960) with Jerry Lewis,  The AbsentMinded Professor  (1961) with Fred MacMurray, recapping his Perfect Fool/Fire Chief character, Walt Disney's Babes in Toyland  (1961), and perhaps his most famous role as Uncle Albert in  Mary Poppins  (1964).
Ed Wynn continued working up to the time of his death on June 19, 1966 in Beverly Hills, Los Angeles, California, USA, of cancer.   Ed Wynn is interred along with his son, Keenan Wynn, at Forest Lawn, Glendale, CA., in the Great Mausoleum. The epitaph on his niche reads: "Dear God, Thank You."
Quotes from Ed Wynn
A comedian says funny things. A comic says things funny.
Wasn't it Whistler who said that a great painter was one who could hide the effort which he put into his work? The same thing goes for gags. It often takes hours to think up something that is said in seconds.
"I'll be back in a flash with more trash." – his famous exit line
"I can't give you a definition [of humor]. It is too subtle to be pinned down. I can say that it differs from wit, which exaggerates the truth, while humor presents the truth in an original way."