Bozo the Clown Quotes – a collection of quotes by some of the individuals who have portrayed "Bozo, the world's most famous clown"
Bob Bell, WGN-TV's original Bozo the Clown
"I was always somewhat calloused about broadcasting, but this Circus is the doggonedest phenomenon I have ever seen. There's always the satisfaction that you have done something for somebody that goes beyond the commercial aspects of the show. I love my work and enjoy making children laugh. Laughter cannot be imitated. It comes from the heart."
–Bob Bell, WGN's Bozo the Clown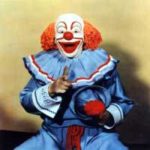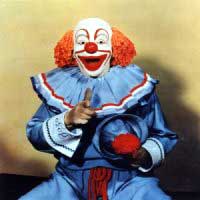 Pinto Colvig quotes
"I never was able to get circuses and carnivals out of my blood after that."

— Pinto Colvig, the original Bozo the Clown
"Sure, there have been kicks in the pants and occasionally an empty gut," he once said, "but those are the jolts what pushes a guy upward and onward!"

— Pinto Colvig
"Pinto came in," Livingston recalls, "and turned out to be a very jolly, likable fellow with the kind of warm, folksy voice I wanted. He didn't talk down to children."

— Alan Livingston, Capitol Records, who created the original Bozo the Clown read-along books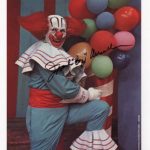 Frank Avruch Quotes
I can almost liken it to Hallowe'en, when you wear a costume. You sort of lose all your inhibitions. 'Cause I am, in real life, [laugh] nothing like Bozo the Clown. You have to be a little loose and uninhibited to do some of the nutty things that I did. But once I put on the make-up and got into the suit, I just became Bozo the Clown. I wanted him to be a happy guy, a nice guy, a good example for kids. Because kids imitate so you have to be a little more responsible of your actions and how you behaved.

— Frank Avruch interview with TV Party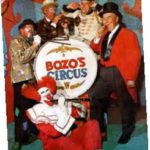 The Bozo Show – WGN-TV
Bozo the Clown: We had fun today. But now, It's time for the Grand March! So, Audience, Follow Me! (Blows his whistle) (To the viewers) Goodbye! (We see audience exiting on stage as the credits rolls

— The Every Episode Ending on The Bozo Show.
Bozo the Clown: You can find this book at the Chicago Public Library, Or of course: At your local library or book stores. Remember, Kids: Reading is fun.


— The conclusion phrase from Bozo's Book of the Week.
Bozo the Clown: Wow! And I gotta tell ya, they're a great cast of thousands too. Good Morning!


— The first words Bozo says at the beginning of every episode after he's introduced.
Announcer: From Chicago, The Bozo Show is on the air! Staring Bozo; the worlds most famous clown! Our cooky cook, Cooky! The maestro of musical magic, Professor Andy! It's Chicago's craziest hour for kids of all ages. With plenty of surprises, and the grandest game of all. The Grand Prize Game! The Bozo Show! Featuring a cast of thousands! And now heeeeere's Bozo!


— The opening announcement to the Bozo Show
Larry Harmon quotes
Bozo is a combination of the wonderful wisdom of the adult and the childlike ways in all of us. Bozo is a star, an entertainer, bigger than life. People see him as Mr. Bozo, somebody you can relate to, touch and laugh with.

— Larry Harmon, the marketer (and voice of cartoon Bozo) who turned Bozo into a worldwide phenomenon
I felt if I could plant my size 83AAA shoes on this planet, people would never be able to forget those footprints.

— source: IMDB
We didn't have satellite, syndication, and networking like today. So, I created my own network of local clowns and productions, a cross-country operation that kept me on the road for 50 weeks a year for decades.
Isn't it a shame the credit that was given to me for the work I have done – they arbitrarily take it down, like I didn't do anything for the last 52 years. (referring to having his induction into the  Clown Hall of Fame rescinded)
What I created for the world was me and my image: what I sound like, what I look like, what I walk like, what the costume looked like.