His New Profession (1914) starring Charlie Chaplin, Fatty Arbuckle, Charley Chase
His New Profession where Charlie Chaplin, as the Little Tramp, turns a quiet day at the park into chaos – especially for the people in wheelchairs!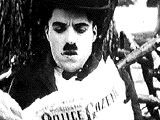 Charlie Chaplin, the little tramp, is minding his own business in a park when a young couple, pushing the man's wheelchair-bound uncle, runs the wheelchair over Charlie's feet.   After apologizing, the young man (Charley Chase) offers to pay Charlie to push his uncle around so that he can have some quiet time with the girlfriend.   Having nothing better to do, Charlie agrees – and soon comes to regret it, as the uncle is very particular, and quick to find fault with Charlie.   Charlie, for his part, is having trouble pushing the large uncle around, giving him room for slapstick comedy.
Soon, they go past a bar, and Charlie asks Uncle for a dime "on account". Which Uncle refuses, even after Charlie pantomimes his extreme thirst.   Charlie is nothing if not cunning, however, and soon parks a dozing uncle next to a beggar.  He steals the beggars "help a cripple" sign and coin cup, and placing them on the sleeping uncle's lap.  Until a compassionate passerby "donates" enough for Charlie to run off and purchase his drink!   Uncle, in the meantime, is abandoned …
Charlie Chaplin is drinking at the bar, a funny bit in itself with bartender Fatty Arbuckle.  The young couple walk by "crippled" Uncle, leaving the young lady to misunderstand and walk away.   While the boyfriend pursues her, the actual cripple walks up and blames Uncle for the theft of his sign – and customers.  He begins to assault Uncle with his cane, and Uncle retaliates.   Having left the bar, a slightly tipsy Charlie walks by and "rescues" Uncle, walking them onto the pier.   Charlie tries to bond with Uncle, and hits his bad leg multiple times in the process.  The girlfriend comes by and Charlie tries flirting with her.  Charlie pushes Uncle toward the end of the pier when Uncle tries to intervene.
When the boyfriend returns, the slapstick comes fast and furious, with slapping and punching all around.  The movie ends with a police officer going over the pier into the water and Charlie walking away with the girl.
In all, His New Profession (aka. The Good for Nothing) is an early, funny Charlie Chaplin short.