Book Description of Charlie Chaplin: Interviews (Conversations With Filmmakers Series), courtesy of Amazon.com

 In late 1914, Charlie Chaplin's name first began appearing on marquees. By the end of the following year, moviegoers couldn't get enough of him and his iconic persona, the Little Tramp. Perpetually outfitted with baggy pants, a limp cane, and a dusty bowler hat, the character became so beloved that Chaplin was mobbed by fans, journalists, and critics at every turn.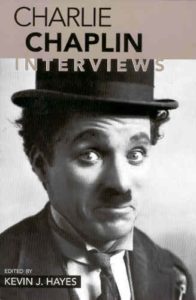 Although he never particularly liked giving interviews, he accepted the demands of his stardom, giving detailed responses about his methods of making movies. He quickly progressed from making two-reel shorts to feature-length masterpieces such as The Gold Rush, City Lights, and Modern Times.
Charlie Chaplin: Interviews offers a complex portrait of perhaps the world's greatest cinematic comedian and a man who is considered to be one of the most influential screen artists in movie history. The interviews he granted, performances in and of themselves, are often as well crafted as his films. Unlike the Little Tramp, Chaplin the interviewee comes across as melancholy and serious, as the titles of some early interviews — "€œThe Sad Business of Being Funny" or "The Hamlet-Like Nature of Charlie Chaplin" — make abundantly clear.
His first sound feature, "The Great Dictator" (1940), is a direct condemnation of Hitler. His later films such as "Monsieur Verdoux" (1947) and "Limelight" (1952) obliquely criticize American policy and consequently generated mixed reactions from critics and little response from moviegoers. During this late period of his film making, Chaplin granted interviews less often. The three later interviews included here are thus extremely valuable, offering long, contemplative analyses of the man's life and work.
From the Publisher
Features interviews with one of the most beloved movie icons of all-time, director of such masterpieces as "City Lights", "The Great Dictator", "Modern Times", "The Kid", and "The Gold Rush"
Arranges interviews and profiles from the beginning of Charlie Chaplin's career in the 1910s to the twilight of his career in the late 1960s
Covers Chaplin's initial start as a maker of two-reel silent shorts and his gradual progression to full-length pictures featuring sound
Adds one of the great classic directors to the Conversations with Filmmakers Series
About the Author
Kevin J. Hayes is a professor of English at the University of Central Oklahoma. His previous books include Poe and the Printed Word, Folklore and Book Culture, and An American Cycling Odyssey, 1887, among others. He has been published in "Film Criticism", "Literature/Film Quarterly", "Cinema Journal", and other periodicals.