Product Description of Wife of the Life of the Party, by Lita Grey Chaplin
Wife of the Life of the Party is the memoir of the late Lita Grey Chaplin (1908-1995), the only one of Chaplin's wives to have written an account of life with Chaplin. Her memoir is an extraordinary Hollywood story of someone who was there from the very beginning. Born Lillita Louise MacMurray in Hollywood, she began her career at twelve with the Charlie Chaplin Film Company, when Chaplin selected her to appear with him as the flirting angel in The Kid.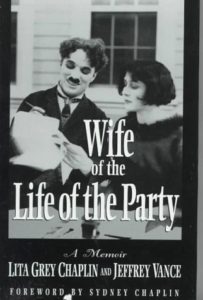 When she was fifteen, Chaplin signed her as the leading lady in "The Gold Rush" and changed her name to Lita Grey. She was forced to leave the production when, at the age of sixteen, she became pregnant with Chaplin's child. She married Chaplin in Empalme, Mexico in November 1924. The Chaplins stayed together for two years. Lita bore Chaplin two sons: Charles Chaplin, Jr. and Sydney Chaplin. In November 1926, after Lita discovered that Chaplin was having an affair with Merna Kennedy (Lita's best friend, whom she had persuaded Chaplin to hire as the leading lady in "The Circus"), Lita left Chaplin and filed for divorce. It was one of the first divorce cases to receive a public airing. The divorce complaint ran a staggering 42 pages and fed scandal with its revelations about the private life of Charles Chaplin. Lita's divorce settlement of $825,000 was the largest in American history at the time. Lita authorized the publication of another biography, "My Life with Chaplin", in 1966. The book was mainly the creation of her co-author, Morton Cooper, who re-wrote her manuscript. Lita was never happy with the many inaccuracies and distortions of that book. "Wife of the Life of the Party" is not to be seen as a supplement to her early book, but rather Lita's own version of her life, told for the first time.
About the Author
Lita Grey Chaplin, Charlie Chaplin's second wife, was a film actress, singer, and author of two memoirs concerning her life with Charlie Chaplin. Jeffrey Vance (M.A., Boston University) assisted Lita Grey Chaplin in compiling her memoir.