Book Description of Charlie Chaplin: A Photo Diary courtesy of Amazon.com

 A few years ago, a sensational discovery was being made when, in Charlie Chaplin's estate, an extensive photo archive was found. It consists of thousands of glass-negatives, negatives and  photo prints  of Chaplin's life. Chaplin has documented his life with passionate enthusiasm: private photographs taken by his friends, his family and his children have been collected as well as "official" photographs made during shootings and work in the studios.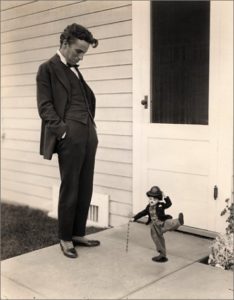 So far, these photographs have never been published. From this tremendous find photographer Michel Comte has put together a sensitive album which shows a Charlie Chaplin hitherto unknown. Here, the trips around the world are in the fore, the "snapshots" with artist colleagues, persons in public life, with relatives, children and grandchildren.
The large-format volume begins in 1909, and ends with a color photograph taken immediately prior to Chaplin's death on December 25th 1977. This book presents an artist who has been 'acting' throughout his life, and who 'has been in the limelight'  in his private life, too.