Handbook For The Magical Party Clown – Promotions, Routines, Balloons, Props & Gags, Everything You Need to Know by Donald Sminkey
Paperback – 148 pages (January 7, 1991)

 A wonderful book, but aimed at a particular audience: clowns who perform at parties. It does not cover clowning, clown make up, character development, or anything related. (I recommend Creative Clowning for a good starting point). Likewise, it does not teach how to perform magic tricks, and assumes that you already have a basic knowledge of these two arts. However, if that description fits you, it is worth its' weight in gold.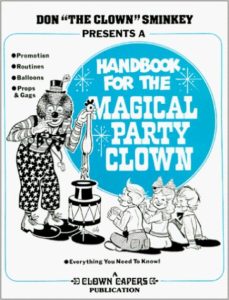 It covers organizing your material, inventory, etc., promotion, stage management, routining your show, performing, and post-show follow-up. It's a very well done book, and includes numerous illustrations, including several props, including a show table, that you can build. I have only one criticism of the book – it consistently refers to articles in other publications, such as MUM, Calliope, Magigram, etc. I understand the restrictions of publication, although it will be difficult for some readers to find some of these resources.
Even so, I rate it 4 clowns




 on a 5-clown scale.
Table of Contents of Handbook for the Magical Party Clown
Organizing Your Material ("I'll get to it tomorrow!")

Show File
Routine File
Instruction Sheets
Periodical and Idea Index
"To-buy" list
Scrapbook
Income, expenses and inventory

Projecting Your Image ("Hey, look me over …")

Wardrobe
Transportation
Advertising
Stationery and Business Cards
Posters, Flyers and Photos
Contracts and Thank-You Cards
Handouts
Press Kits
Balloons

Logistics ("If it won't fit into my van, I won't take it!")

Sound
Stage
Tables
Transporting the Show
Arriving on Time
Leaving the Show

Before the Show Starts ("When will they all get here??")

Stunts and Gags
Impromptu Magic
Games and Activities

The Show ("I hope my underarm alarm doesn't go off!")

General Format
Show Themes
Routines
Handouts During the Show

After the Show ("That's the first time I swallowed the mouth coil!")

Balloon Sculpture
"Happy Birthday to You …"
Good-byes
Arriving Home

Prop Potpourri ("You put your finger through this loop and then …")

Flash Pot
Trick Books
Flower Production
Utility Vanish/Change/Production Box and Tube
Siren
Giant Wand
Electric Wand

Holiday Shows ("I'm dreaming of a white Christmas …")

Halloween
Christmas
Easter
Fourth of July

Concluding Remarks
Some Magic Dealers and Magazines
Editorial Reviews
Book Description
Here is tremendous amount of practical advice for the clown magician, beginner or professional alike. All aspects of the business are covered — promotion materials, including flyers, handouts, contracts, publicity photographs, posters, show forms, press release, etc.; super magic and clown routines; logistics — plans for tables, sound systems, backdrops; warm-up stunts, gags, games and activities; how to routine a show; plans for some super clown props; a special chapter on planning holiday shows; a great annotated bibliography for balloon workers, magicians and clowns.
From the Author
Way back in 1983 I was approached by the President of our clown club, Kapitol Klowns, Alley #6 of the Clowns of America. He suggested that I might want to give a lecture on clown magic at the club's third annual clown workshop. I agreed, and then proceeded to put down some ideas in the form of a small lecture pamphlet. It was my idea to consolidate all the information required for a clown or magician trying to get started as a professional entertainer for children's parties. Well, the lecture pamphlet kept growing as a wealth of material was gathered from many sources. The final result was not a lecture pamphlet, but the Handbook for the Magical Party Clown. The Handbook will save the beginner the many hours of exhausting research that I endured during my beginning years.
The author, Don "The Clown" Sminkey, info@clowncapers.com , July 10, 1999
This book has been well received by clowns and magicians.
My Handbook has been well received by clowns and magicians all over the world. I have received many grateful letters from beginners who have commented that my Handbook has saved them many hours of research and study. The Handbook has also been favorably reviewed by many professional entertainers. This our 3rd edition of the Handbook, and I have tried to keep the material current. I hope you will get many ideas from our book that you can use in your party shows, walk-arounds, stage shows and holiday shows. –This text refers to the Paperback edition.
About the Author
Don "The Clown" Sminkey has been performing magic as a hobby for over 30 years. He began to perform as a professional magical clown in 1980. He is a member of the Society of American Magicians and Clowns of America International, and has attended many clown and magic conventions. His wife and daughters joined the team in 1981 and the Clown Capers company was born. Don has lectured at local clown clubs in the Washington, DC metropolitan area, and has taught many clowns and magicians who have later worked for Clown Capers.